Journey to the Tourney: Dance Team
I had the chance to speak with senior captain Alayna Runge about the dance team and their experience thus far. This is what she had to say prior to the state competition.
Q. What has the dance team been doing in preparation for this year's State Competition?
"We have been working to stimulate the energy we will feel at the Target Center so that there are no surprises when it's time to compete."
Q. How do you think you match up to your competitors?
"I think we have a fair chance against the other teams. It will come down to who wants it more."
Q. What has been the biggest difficulty this season?
"The team is younger, so some things took a little longer to catch on."
Q. What sets this team apart from the others?
"We're very close and bonded throughout the different grades; everyone tries their hardest at all times."
Q. Do you have any pre-performance rituals?
"We do a team prayer and visualization, and then we hit a poster."
Q. If you could describe your Journey to the Tourney in one word, it would be…
"gritty"
"
It will come down to who wants it more."
— Alayna Runge
The SSDT went on to take third place after a phenomenal jazz competition on Friday. They placed behind Totino Grace and Benilde-St. Margaret's, who were awarded second and first place respectively.
The dance team brought their A-game with them into the kick competition on Saturday, where they defended their state title and won the championship for the second year in a row.
Successfully defending their state title proves that the SSDT is consistently a force to be reckoned with.
As a way of recognizing the athletic talent here at SHS, the LeSabre is going to follow state qualifying sports teams on their journeys to the tourneys. This edition is all about the Sartell Sabre Dance Team.
About the Contributor
Katrina Schiller, Journalist
Grade: 12

Go-to Article of Clothing: turtleneck

Living Room Decoration Must Have: ceramic cats

Favorites:

Movie: Chasing Mavericks
Coffee...
Dance team sweeps at sections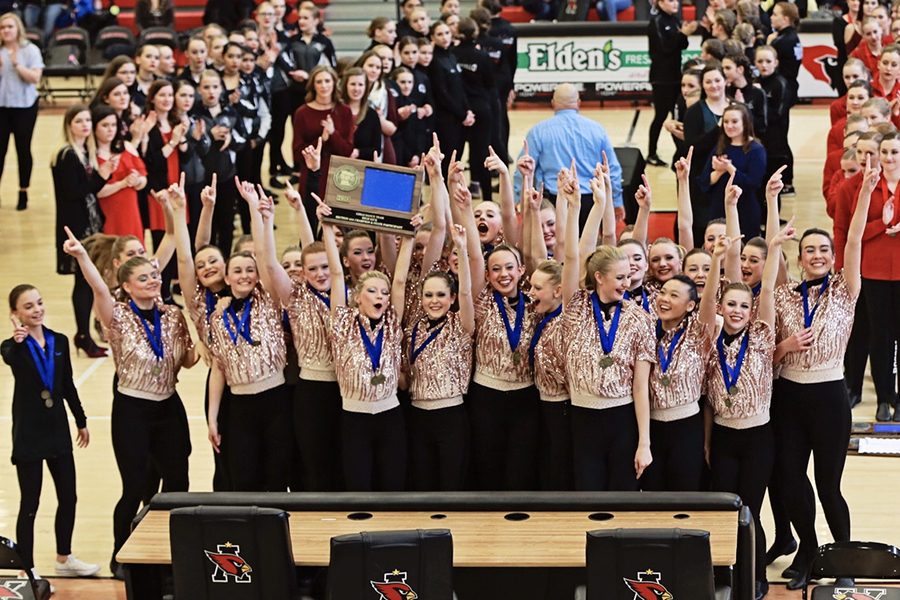 The Sartell Sabre Dance Team won first place in both their jazz and kick competitions at the section tournament at Alexandria High School on Saturday, February 3rd, earning them two well-deserved spots in the state tournament.
The state tournament is set to take place at the Target Center in Minneapolis and dates are as follows:
The Dance Team will compete in the jazz tournament to the song "Cold Hearted Snake" on Friday, February 16th.
On Saturday, February 17th, the girls will compete in the high kick tournament to their "Grease" themed dance.
Everyone is excited to see what this year's state competition has in store for the Sabre Dance Team, but this year's team can already be summed up in one word: successful.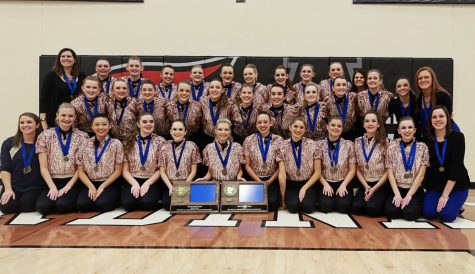 Photographer: Heidi Reitz
About the Contributor
Katrina Schiller, Journalist
Grade: 12

Go-to Article of Clothing: turtleneck

Living Room Decoration Must Have: ceramic cats

Favorites:

Movie: Chasing Mavericks
Coffee...
Sartell skiers "Kick" it in for conference
The SHS/CHS ski teams competed at the Mora Nordic Center for a conference championship on Tuesday. The boys' ski team finished second to the team from Mora. The boys lead with a second place finish by junior captain, Alex Nemeth. The girls' team finished in third place. They were lead with a 9th place finish by junior captain, Colette Jemming. Johanna Schwinghamer of Mora won the race.
The conference meet is very important for teams going into their section races. The meet is set up as a pursuit race. A pursuit race is essentially two races and the times from both races are added together. This makes both styles of skiing, classic and freestyle, equally important. Most teams use this race to finalize their section line-up and alternates.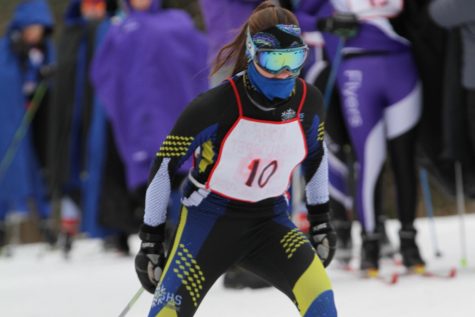 A pursuit race takes a whole day to complete, so the number of pursuit races that can be done in a year is limited. This year's lack of snow has caused some issues for the ski team. The conference meet was the only pursuit race held that Sartell competed in. Good luck to those skiers heading to sections next week in Detroit Lakes!
About the Contributor
David Anderson, Journalist
Grade: Senior

Go-to Article of Clothing: Turtleneck

Living Room Decoration Must Have: Ceramic Cats

My Favorite Quote: "Watch your own bobber."...
Thespian attends local high school hockey game
On Tuesday, November 14th, at 7:15 pm, local thespian, Sartell senior Laura Carlson pulls herself out of bed to attend the Sartell v.s. Rodgers girl's hockey game at Bernick's Arena to review the game for her school's newspaper.
She jaunts in with a swift aroma of chlorine, popcorn, sweat, and hockey moms hitting her right away. She is wearing pajama pants, an Ireland sweatshirt, and a pair of clogs; she blends right in. Laura has never experienced this sort of regime. Everything is loud, and she looks for a place to sit like a lost puppy. A young boy even had to direct her to where the stands are. However, Laura doesn't understand why they are called that. 
"
Why would you call a place you sit a "stand"?"
— Laura Carlson
She is used to red cushions and carpeting, and that was just not the case. Laura finds a little corner where no one else is sitting to set up camp. She is cold, tired, cranky, and hungry, and it's only 7:21 pm.
The motivation finally begins to kick in as she sets up her camera. What she thought was called an inning, but is called a period, begins. She is hoping someone will begin dancing on the ice when the music interludes come on; however, she was disappointed more than once. The athletes are skating in an unchoreographed pattern. They begin whacking their sticks violently against the ice to hit what can easily be mistaken as a stale bagel.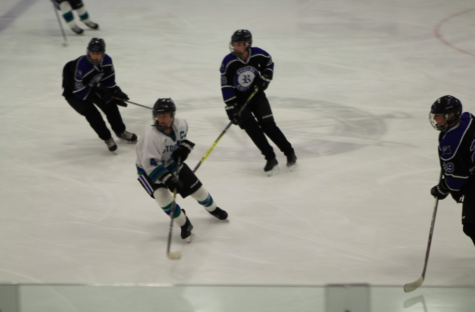 "The first round, I mean inning, I mean period, is done with each of the teams scoring no touchdowns. All of the hockey Mom's deemed this little break as an appropriate time to yell at me for taking pictures in front of them." Laura said this is the first time she has experienced real fear. A combination of an aggressive tone, teased hair, and tie blanket made her shrivel up and walk away. Laura made sure to stay clear of the sight lines for the rest of the game…
By the second period, the opposite team has "baked a bagel" (scored a point). The tension started to heat up when the Storm'n Sabres brought their A-game and tied up the score.
"Is it time to go home now?" is all Laura could ponder when the final buzzer rang and the score was tied. However, she was sadly mistaken when the players skated out and the clock read 8 minutes.
The clock buzzed, the players sighed, and Laura ran.
The game ended with each team scoring 1 point and with a pack of riled up parents. Overall, there was a lot of noise and anger, but everyone was getting together to show support for their children and passion for the game; and that is the beauty of sporting events.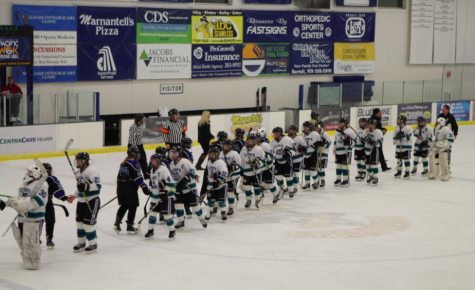 About the Contributor
Laura Carlson, Journalist
Oh hello! I am very excited to be a journalist for this wonderful newspaper! A little bit about me...I love musical theatre, opera, LaCroix, Justin Trudeau,...