Two SCSU hockey players hit the ice at the 2022 Beijing Olympics
Two Minnesota natives and SCSU hockey players, Sam Hentges and Nick Perbix made it to the USA Olympic Hockey Team this year.
Sam grew up playing for Totino-Grace High School in Fridley, Minnesota. Nick grew up playing for Elk River High School in Elk River, Minnesota. They both have been playing hockey throughout their lives before committing to play Divison 1 hockey at Saint Cloud State University (SCSU Huskies). They are both seniors at SCSU and recently went to the 2022 Bejing Olympics with the USA Olympic Hockey Team.
To find out a little more about these fantastic players, please check out the charts below.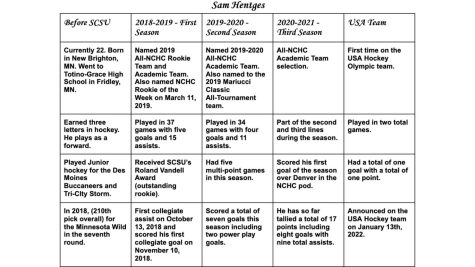 Sam Hentges and Nick Perbix have been playing together since 2018 in their first season with the Huskies. Below are Nick Perbix's statistics over the last four years as well as his Olympic statistics.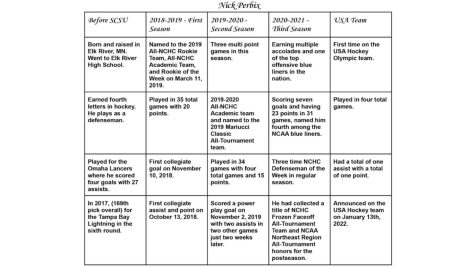 Throughout their four years of playing for SCSU, Nick and Sam have been coached by Head Coach, Brett Larson. He has been coaching for SCSU since 2018 and this is his fourth season as Head Coach.
Brett has been with multiple other teams including the University of Minnesota, Duluth, as an assistant coach. He played with the team all four seasons of his college career (1991-1995). Brett was also drafted to the Detroit Red Wings in 1990 as an 11th round pick overall.
Brett recently went to the 2022 Bejing Olympics as an assistant coach for the USA Hockey Team along with coaching Sam and Nick.
Brett has led the Huskies to multiple successful seasons within his four years of being Head Coach. He continues to find new ways to get the team to work hard and never give up after a tough loss. Brett has also worked hard to achieve some Honors and Rewards.
He has received the reward, NCHC Coach of the Year in the 2018-2019 season and received the honor of being named Assistant Coach Team USA for the 2020 IIHF World Junior Tournament.
About the Contributor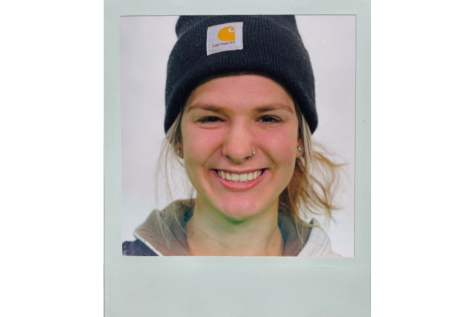 Kendall Herman
I grew up in Sartell, Minnesota, but I now live in St. Cloud. I love spending time with my family and hanging out with friends. I love watching sports...