Boys basketball has baffling bus rides
The Sartell Boys' Basketball team is currently on fire with a record of 16-4. They have a serious chance of making it to state this year with the senior core of Mason Lund, Evan Templin, and Logan Clark. With how serious they are on the court, the basketball team is very fun off the court.
They travel to Moorhead on February 17th for a section game, and they do a lot on the bus rides to have some fun for 2 ½ hours. The next two games are away games so this article is going to be about what happened on the bus rides to prepare for the games and what the team did after the games.
On the bus ride there it is usually pretty chill and low-key. The team just likes to keep to themselves and listen to music on the way there. Sometimes, if there is a coach bus there would be a movie on for them to watch. The movie is usually sports-related or something inspirational on the way there, but on the way back it is usually something fun. For example, on the way back from Moorhead the team watched the Bad Boys Pistons 30 for 30 on the way there but on the way back they watched Pitch Perfect.
One thing that the team does for entertainment on the way to their opponent's arena is taking funny pictures of each other. It's usually just on Snapchat, and we just put a funny filter on the person and send it in the group chat, or just show the person. One thing that Kelechi does is that he will have his camera pointed at you so you think he is recording you or taking a picture, but he actually just takes a picture of himself. 
The fun bus rides are the bus rides home from a big win. For example, when we won in Moorhead it was a fun time. Everyone was happy because we didn't lose so they were in a good mood. Eventually, we got into some rap battles in the back of the bus. It was fun to hear, and it was just a good vibe. The opposite is true on a loss, however. After the loss to Brainerd, it was a very quiet bus ride. People didn't talk loud and just kept to themselves because they were mad that they lost. Those rides are the most boring, but it makes up for it when you have the big win bus rides.
"
Hanging out with my teammates for sure."
— Anthony Mahowald was asked what was his favorite part of bus rides he said
Not all bus rides have to be very long or after a big win though to be fun. Some of the best bus rides happen when something exciting happens. For example, when we beat St. Cloud Tech when it was at their place. Sartell was supposed to win that game, and we did but it was exciting because their student section was wild and also the team beat the Fergason brothers. St. Cloud Tech had the most people in their student section we have seen yet this year, and they were loud. They kept chirping at Mason all game and Mason responded by hitting clutch threes and free throws. Another reason why it was exciting is that the Sabres beat Donald Fergason and Tameron Fergason. Donald is a senior guard and was a candidate for Mr. Basketball in Minnesota which is an award for the best player in the state. He has a little brother named Tameron, a sophomore guard who has the potential to go d1. That win was so nice, and it was a fun bus ride home afterward.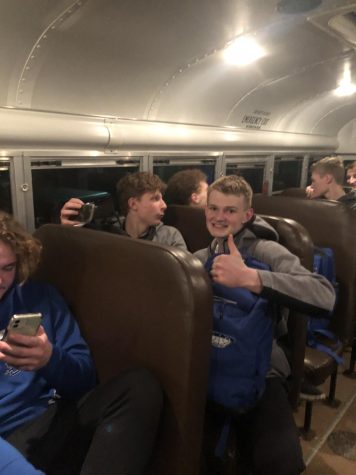 "
"Moorhead for sure. After a tight win, everyone was just in a good mood and it was fun.""
— Mahowald on what was his favorite bus ride.
About the Contributor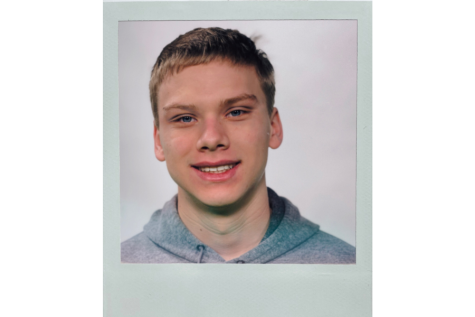 Brady Husmann
My name is Brady Husmann, and I am a junior at Sartell High School. I like to play basketball and attend sporting events. What I do on my free time is...