History of 'Tackle Cancer' football
Around 15 years ago the first tackle cancer game was played. Randy Shaver was diagnosed with cancer in 1989 and five years later started Tackle Cancer, a program designed to raise money for cancer awareness and research.

Not many know the history of Tackle Cancer football. For over 33 years, Randy Shaver has been covering high school football and has done a pretty good job doing it. It was not until a little later into his career that he was diagnosed with Hodgkin's lymphoma.
A few years later he started advocating and speaking on behalf of cancer research and had a thought that maybe high school football can be more than just high school football.
Tackle Cancer has been going on for 15 years and has also helped raise around six million dollars for cancer research. Over 140 different schools from around Minnesota participate and designate one game in their season to wear pink and receive donations for cancer research. Sartell has its own Tackle Cancer game this Friday, October 12. Almost everyone is touched by some form cancer in some way.
It is important that we all help in some way whether it is donating, volunteering, or just making people more aware. Randy Shaver has many events to help raise money for cancer research. If you are interested click here
About the Writer
Cody Neitzke, Journalist
This is Cody. He is a country boy that enjoys trucks and country music. He is a senior at Sartell High School. He is very involved in school sports such...
Evil Genius
On August 28, 2003, Brian Wells was working as a pizza deliveryman in Erie, Pennsylvania. His boss handed him the phone when he could not understand a customer asking for a delivery. Wells drove out to a remote area near an abandoned television station on Peach Street. By late afternoon, Brian Wells was robbing a bank with a bomb strapped around his neck.
Evil Genius, a Netflix documentary, follows the infamous Pizza Bomber case from small-town Pennsylvania and the unusual suspects and circumstances that make this case unique, not only to the viewer but to United States history. Its mix of expert commentary and original footage, buttressed with an artistic flair, makes Evil Genius an honorable contender amongst the other Netflix original true crime documentaries.
The first episode of the four-part series focuses primarily on Brian Wells, the day of the heist, and his subsequent death. The first ten minutes successfully captivate your attention with a showing of borderline gruesome original footage. The first episode tells the facts of the case. Brian Wells robbed a bank with a bomb around his neck and a homemade cane gun at his hand. Police caught him and the bomb went off, but they open the series with the story of Majorie Diehl-Armstrong.
Majorie Diehl-Armstrong captures the attention of most of the series, but I didn't find her as captivating as I was led to believe she was. She was a criminal mastermind with many misinformed mental diagnoses, but I never felt her to be the "evil genius" they played her to be. Her character, and the relationship she had with the narrator, was also shown in a dull enough way that I couldn't ever focus when they spoke about her.
While the first episode is a winner, the subsequent episodes are lackluster. The increased focus on the narrator and his journey, while necessary to explain the cases revelations, is awkward and boring. While the first episode had my unending attention, the later episodes had me zoning out.
The insanity and peculiar nature of the story itself carries the entire crime documentary and keeps you watching. Peppered with explosive confessions, Evil Genius keeps your interest piqued long enough to make it through the ultra-boring facets of a very unusual crime.
Featured freshman of the week: Sophie Speckhard
For those of you who do not like to branch outside your grade, here is a brief look into the life of freshman Sophie Speckhard.
Q: What do you think of high school so far?
It's a lot better than middle school because of more freedom.
Q: What has been your least favorite part of high school?
Long classes
Q: Are you in any activities?
Track, STUDCO, soccer
Q: Who is your favorite upperclassman? Why?
Aiden Speckhard: he is super funny and social
Q: Biggest fear?
Public humiliation
Q: Favorite Song?
"Like Gold" by Vance Joy
Q: Celebrity Crush?
Tom Holland
Q: Who would you say are the 3 biggest legends dead or alive?
Prince, Ellie Mahowald and Chris Daughtry
Q: Where do you want to be in 10 years?
Traveling
Q: What is your #1 piece of advice to give people?
"Live each day like it is your last."
About the Contributor
Eddie Hamilton, Journalist
Eddie is a family man... He loves to have fun with his friends and bum around the town. He is a Senior at Sartell High School and an avid learner. This...
Farewell, Sartell High School
As graduation is coming up around the corner on this Saturday, these are the last few days for seniors here at SHS. This journey of high school has left many memories: some good, and some bad, (some delicious) but all memories we will remember. Many seniors are prepping for their last summer, as we will all be heading to various colleges next year. Many people tell you that high school will go by fast and that you should enjoy it, but you never really take into account how fast it is until you are standing in those blue caps and gowns walking up on stage.
These last few days seniors are reminiscing about the good old days of 9th grade gym and how they are glad they are not in it anymore, that 3.7 GPA you started off with four years ago, or the Valleyfair trip in 8th grade. Each memory makes this place more special, no matter how much you want to leave or how bad you might miss it. You made friends. You learned something. You made a lot of memories. More importantly, you had fun, probably…hopefully.
Dance season closing to an end
This past weekend, Burnsville held the last competition of the year for Ms. Melinda's dance studio and many other studios, as well.
For the competing teams, they worked their hardest to give their last dance of the year a high score. This dance competition was held by Bravo at a convention center. Ms. Melinda's scored many high golds, elite high golds, and even some platinums.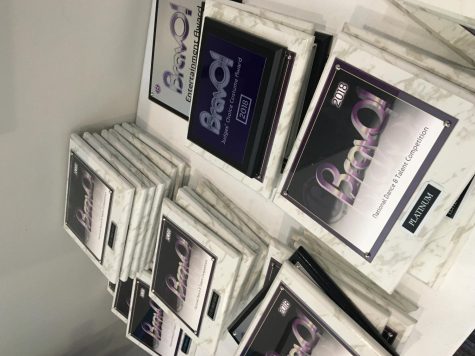 The way the scoring works is that High gold would be compared to a bronze, elite high gold is compared to a silver, and platinum is compared to a gold. There are other scores held beneath these three, but almost no one seems to get those scores with the level of skill that the teams bring to compete.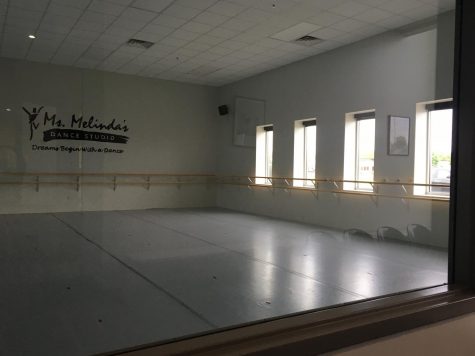 All the teams ended the season with some great new medals to add to the collection, and they hope to do even better next year. Ms. Melinda's hopes to bring the game again next year with some fresh new dances to compete with. For some dancers, however, this season is coming to a close with only their recitals left. As for the seniors who are graduating from high school, this is their last year that they are able to be in studio dance.
Megan Thooft, a senior who attends Ms. Melinda's, stated, "My team definitely found themselves this year. We work so well together, like a family. This last comp was the best we have ever done those dances and I am proud to say that they are on my team. I am going to miss them all so much next year."
About the Contributor
Rachel Eisenschenk, Journalist
Grade: Senior

Go-to Article of Clothing: Turtleneck

Living Room Decoration Must Have: Ceramic Cats

My Favorites: Hip-Hop dance, Photography,...
Pets of Sartell: The finale
Pets of Sartell is a weekly article where people's pets get a chance to shine like the stars they are.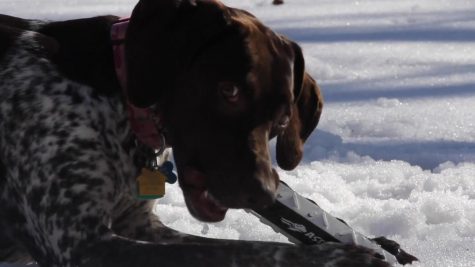 The first pet of the week is Sadie Moritz. This dog belongs to junior Alex Moritz and his family. The Moritz family first got Sadie when she was only 1 year old. Sadie is now 3 years old but still has just as much energy. Sadie loves to play catch, and her favorite toy would have to be a tennis ball. She always seems to be making sounds, whether it is whining or barking. Sadie can also snap her jaw, and it will make a noise. This German short hair is a lovable and crazy dog.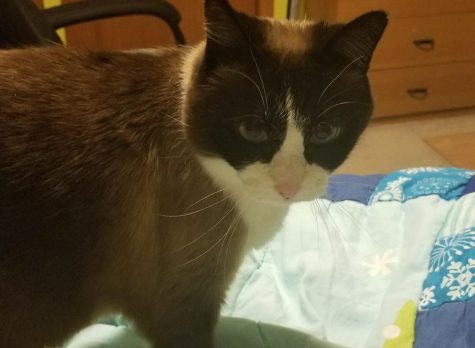 The second pets of the week are Noodle and Clover Mallo. They are the cuddly pets of Erin Mallo. Noodle and Clover are Snowshoe and Calico Mix cats. Each of these furry companions has completely different moods and behaviors. Noodle is a mellow cuddler that spends his days lounging around, while Clover is busy doing laps around the living room. When Noodle isn't cuddling, he can always be found tormenting Clover or playing with his little mouse toy. Clover's favorite toys are anything not intended to be a toy: the throw pillow, shoes, and anything else she can get her paws on. While Noodle and Clover are two completely different cats with their own personalities and differences, they still manage to entertain and bring joy to Erin and her family, which truly makes them special cats.
Noodle and Clover's Photo Album
"
Noodle is one of the cuddliest scardy-cats."
— Erin Mallo
About the Contributors
Rachel Eisenschenk, Journalist
Grade: Senior

Go-to Article of Clothing: Turtleneck

Living Room Decoration Must Have: Ceramic Cats

My Favorites: Hip-Hop dance, Photography,...
Harper Atkinson, Journalist
Grade: Senior

Go-to Article of Clothing: Turtleneck

Living Room Decoration Must Have: Ceramic Cats

Quote to live by: "I know."-Han Solo in Star...
The Good, the Bad, and the Delicious: Season Finale
With more and more food places popping up all over the St. Cloud area, it's hard to find good food at a decent price. You're in high school, you don't have the time or the money to go to every food place and find the best deal for the best food possible. But that's why we're here, to do it for you. Every week we explore different food options ready for us and find the the Good, the Bad, and the Delicious in your next meal.
On week one of the Good the Bad and the Delicious we found three different subs shops and rated their food. With the school year winding down, we decided to revisit subs and conclude which sandwich is the most delectable in your local St. Cloud area. This conclusion on the Good the Bad the Delicious will include Jimmy John's, Jersey Mike's, and Firehouse Subs. At each location we once again purchased their version of a roast beef sandwich and got whatever was on it even if another sandwich did not have it.
Jimmy John's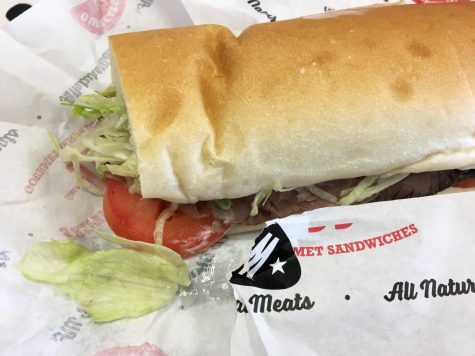 Starting off at Jimmy John's, we return to the roast beef sandwich and got a #2: The Big John. This sandwich contained roast beef, lettuce, tomato, and mayo on white bread. Surprisingly enough, there's not much to say about this one. As it is a fairly simple sandwich, we found that it brought out and complimented the taste of the roast beef quite pleasantly. The portions were smaller than most of the other locations and our service was quick and easy; much like how it is promoted. An overall good sandwich that had nothing bad going for it, its simplicity and smaller stature truly makes this sandwich good.
Cost: $6.29
Rating: 3/5
Jersey Mike's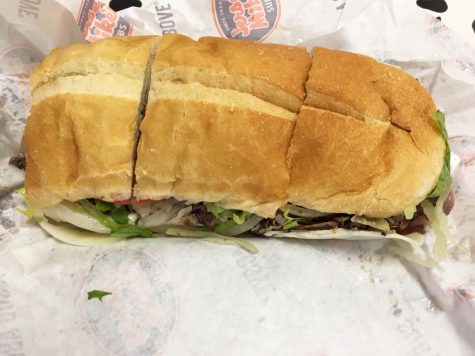 Next we visited Jersey Mike's. Its arrival earlier this year was an invited and welcome addition to the variety of food locations around the area. The sandwich however, was far less welcome. It had roast beef, provolone, onion, lettuce, tomato, red wine vinegar, an olive oil blend, oregano, and salt on white bread. Although the red wine vinegar made the sandwich seem so much more appealing, the sandwich overall was still lacking. The roast beef was dry and the lettuce was bogged down with oil and vinegar that didn't make it to the rest of the sandwich. If there were to be less roast beef then there might  have been more balance to make this sandwich a lot better.
"
You really don't get a cold sandwich from Jersey Mike's. You get a warm sandwich; you get a cheesesteak.""
— Rachel Asfeld
This location had advertised a lot of really good elements to their sandwich, but unfortunately just didn't serve them in a manner that made the sandwich into what it could have been. Everything felt like just a texture with nothing really able to bring it from a bad sandwich, especially for it being the priciest one on the list. Although we were excited for a new sub shop, it had come to be a little more of a slight disappointment than anything.
Cost: $8.25
Rating: 2/5
Firehouse Subs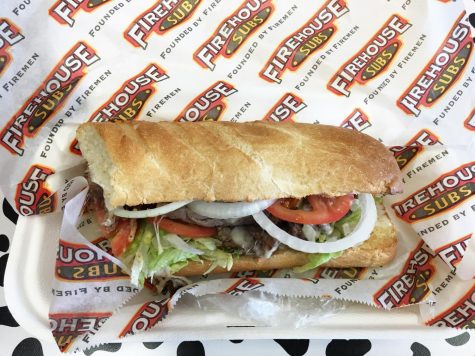 The last stop was Firehouse Subs. Anything you could have possibly wanted in a sandwich was indeed here. We had ordered a roast beef and provolone that was "Fully Involved". This meant it included lettuce, tomato, onion, mayo, mustard, all heated to perfection. Although it took a few minutes longer here for them to finish creating our sandwich, it gave you the time to really take in the firehouse aesthetic the sub shop had. It was a very welcoming place to be. Once our sandwich was served and we dove into our first bite, it was a beautiful experience. Everything complimented each other nicely and could all be tasted without one flavor overpowering the other. Of all the sandwiches this one knew just what it was going for and kept us coming back for more and more with each bite. This sandwich was truly outstanding from its counterparts this week and truly makes it delicious.
Cost: $6.59(or 7.00 if you round up your change to donate to charity)
Rating: 5/5
With Firehouse being deemed the best this week, there is only one question to ask. Week 1 winner: Erberts and Gerberts or Week 2 winner Firehouse Subs? Just as a refresher here is Erbert and Gerberts review:
"Our final stop was Erberts and Gerberts which had was by far the smallest sandwich we found but also the cheapest! It was a fairly simple and small sandwich, and it wasn't messy like the other two had been. The roast beef and bread were definitely the favorite of the three. Although Subway strongly advertises how fresh their ingredients are, Erberts and Gerberts somehow left us thinking that this sandwich had the freshest ingredients of them all. Not only were the ingredients the freshest, but they also had a good balance. All the flavors kind of just melded together into one happy flavor. The best part of this sandwich, however, is how they give you the extra insides of the bread on top to eat. The bread is downright the best of them all in every category. The only downside of this experience was how small of a sandwich you receive. Although it left us wanting more, it was definitely a favorite amongst them all and highly recommended. Lucky enough, it also happens to be the most affordable of the three."
To determine which one of the two is the best vote below, which is your favorite, Erberts and Gerberts or Firehouse Subs?
[playbuzz-item item="609c12aa-b8cc-47f1-8821-dc496e134318″ info="false" wp-pb-id="511630″]
Sami Lundgren
In high school Sami Lundgren played softball for all four years, and she was also a member of NHS. Sami also worked at Caribou for 8 months. Sami said her favorite class she took in high school would either be Spanish or AP Bio. She also said her favorite teacher she had at Sartell was Mrs. Madrigal. Sami plans to continue studying Spanish in college because she enjoys being able to speak another language.
What are your plans after high school?
College. St. Bens
How/Why did you pick that school?
I get free tuition.
What are you thinking about majoring in?
spanish/pre-med
Is there anything you are nervous about?
Going to class
What advice do you have for the upcoming seniors?
Do your homework!
About the Writer
Ally Koopman, Journalist
Grade: Senior

Go-to Article of Clothing: Turtleneck, Khakis (standard color for smart, casual dress trousers for civilians)

Living Room Decoration...
Featured freshman of the week: Morgan Cromwell
For those of you who do not like to branch outside your grade, here is a brief look into the life of freshman Morgan Cromwell.
Q: What do you think of high school so far?
It is very okay and boring.
Q: What has been your least favorite part of high school?
Distance between classes.
Q: Are you in any activities?
Hockey and Soccer
Q: Who is your favorite upperclassman? Why?
Cameron Cromwell, he is my brother
Q: Biggest fear?
Bugs
Q: Favorite Song?
I don't have one.
Q: Celebrity Crush?
Zac Efron
Q: Who would you say are the 3 biggest legends dead or alive?
Zac Efron, Jerome Nemanich and Michael Jackson
Q: Where do you want to be in 10 years?
Alive and well.
Q: What is your #1 piece of advice to give people?
Please do not forgot to tie your shoes
About the Contributor
Eddie Hamilton, Journalist
Eddie is a family man... He loves to have fun with his friends and bum around the town. He is a Senior at Sartell High School and an avid learner. This...
Find a new best friend at the Tri-County Humane Society!
Summer is here! Summer is a great time to find new friends and experience new things, with animals or humans.
Summer is a great time to get a new pet because you have so much time to spend with them and teach them new tricks.
So where is the best place to get a new pet? The humane society (the closest one to use is the Tri-County Humane Society) has many different dogs and cats.
The Tri-County Humane Society is popular in this area for rescuing an animal. They are a no-kill shelter (no- kill means that they don't give the animals a time limit on how long they are but sometimes they do have to humanly euthanize animals if they are medically not healthy or they are just not able to be adopted.)
This time of year the humane society has an influx of kittens. Kittens are undoubtedly adorable and are relativity inexpensive at the humane society, usually around $150, but they come already spayed or neutered.
Kittens need a home, but the older cats also need a good, loving home. As sad as it is, not everyone wants an older cat, but the older cats can be the best! Most of the older cats are only $50, and some are only $10.
This is "Big T". He came in as a stray, so they don't know much about him. From volunteering there, I can tell you that he loves being pet!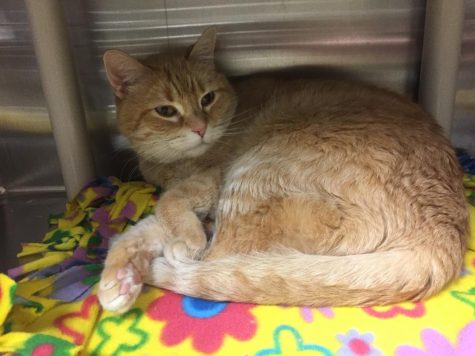 This is Spike. Spike loves attention and loves being pet! If you stop petting him, he will put his head under your hand.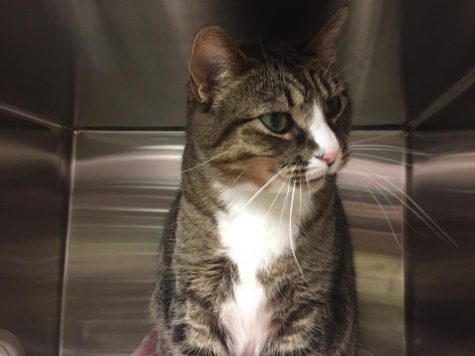 This is Charlie. Charlie is apprehensive about meeting new people, but once he knows you he can be sweet.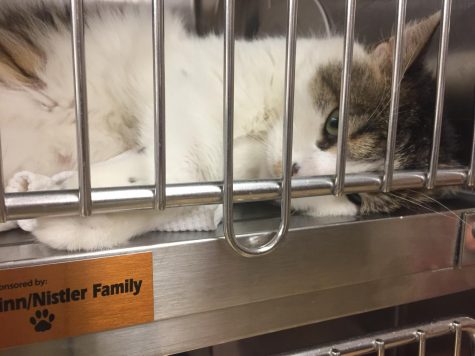 This is Peanut. Peanut is a very vocal cat and loves attention! He has diabetes so he needs someone who can care for him properly.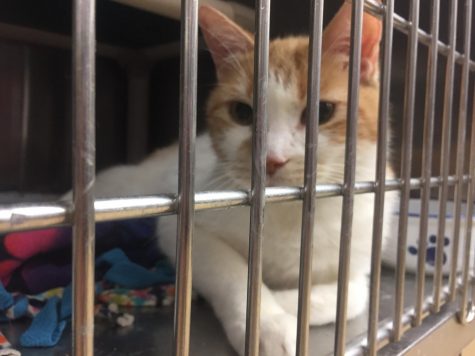 It's universal knowledge that dogs are man's best friends, and the humane society is the best place to find a new best friend. They sometimes have puppies but a majority of the dogs there are at least one year old, they even have some older than ten sometimes.
This is Harley Syd. She is a love bug and loves attention and being pet, if you stop petting her she will reach her paw out for more.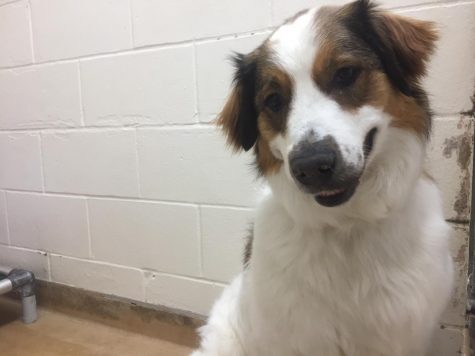 This is Maggie, and she is a sweet girl who loves attention from people she knows.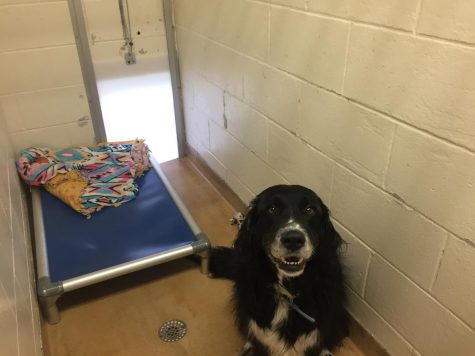 If dogs or cats are your favorite, don't worry; they have rabbits, guinea pigs and more.
This is Pecan.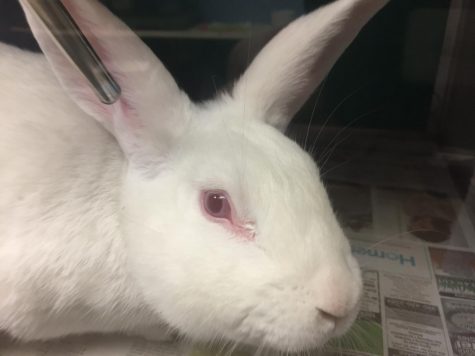 The Humane Society is a great place to adopt or volunteer. Not only will you be recusing an animals, you will find a new best friend.
Here are some more photos of some adorable animals that are ready for a new life!