e-PAW-sode 3
Hang on for a minute...we're trying to find some more stories you might like.
The Sartell Doghouse is a weekly article that allows the students of SHS to flaunt their pets to the rest of the school by sending in pictures to the LeSabre.
The first pet to be featured this week is Oreo Ibarra. Oreo is a five year old Poodle-Shih Tzu-Maltese mix, and he lives with junior Natalia Ibarra. Oreo enjoys sleeping, and chasing shadows; however, Oreo does have some fears. He is afraid of any item that moves, plastic bags, dish bowls, and fake dolls. Oreo's favorite toy is his pillow because when Natalia points at it he knows it's bedtime and that he will get to do his favorite hobby: sleep! If Oreo could speak English, he would most likely have a Hispanic accent because he is bilingual. Everyone in Oreo's family speaks Spanish and English to him, and he understands approximately 20 demands in Spanish. For example, Oreo responds when he told to "sientate" by sitting.  He runs when he is told "corre," and will come when is he told "ven para aca." Oreo has many sides to him, one of them being mischievous. His favorite food to sneak is his mom's tortillas. As soon as he gets ahold of one, Natalia Ibarra says, "He chews like a cow in front of us."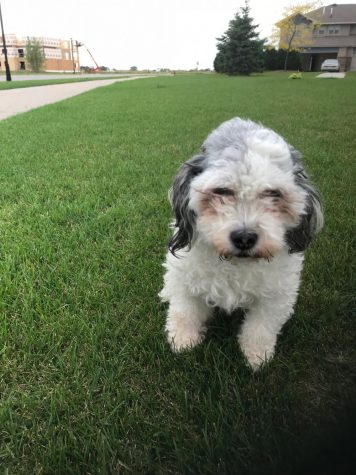 The second dog that will be flaunted in this week's e-PAW-sode is Bumper Schwinn. Bumper belongs to junior Tessa and freshman Trina Schwinn. Bumper is almost four years old, and he is a yellow Lab mix. Bumper was adopted from the Tri-County Humane society when he was about one, and he has been living with the Schwinns ever since. Bumper enjoys playing with any toy that squeaks, he howls when he hears sirens, going for boat rides, and he likes to beg for treats by sitting like a gopher. He is afraid of the water, swimming, and thunderstorms. Bumper's favorite foods to sneak are treats and hot dogs. According to Tessa Schwinn, "Whenever we are roasting hotdogs around the campfire he always seems to sneak up behind you and take it." Bumper's favorite season is winter because he loves the snow. He likes to scoop up the snow in his mouth and chomp while it melts in his mouth. Bumper is not an only child; he has two feline siblings other than his human sisters, named Pepper and Dusty.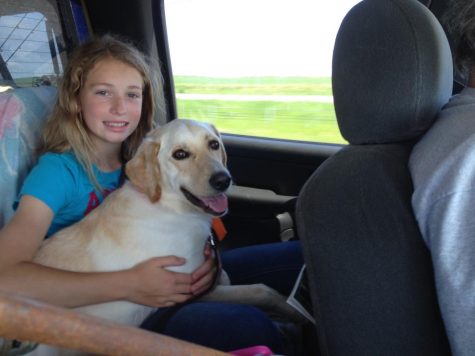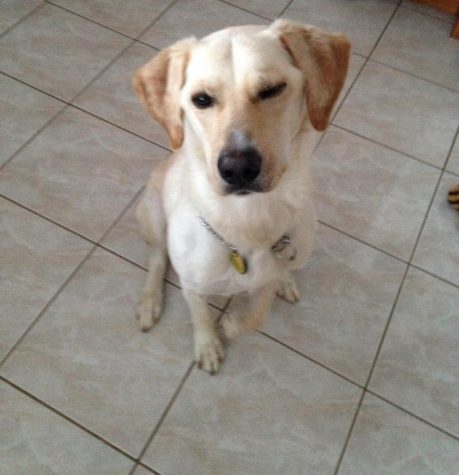 "
Every snack you make, every meal you bake, every bite you take, I'll be watching you."
— Josie Gessell
The final pup this week is Josie Gessell. Josie is a 1 ½ year old Pit Bull-Lab mix, and she belongs to junior Miah Gessell. In her free time, Josie enjoys bird watching, running around, taking naps, sneaking fries, and collecting sticks. One strange thing about Josie is that she doesn't like to go for walks, so if Miah could ask her one thing it would be, "Why do you refuse to go on walks?" Josie loves to hunt birds, so if she was human she would definitely wear a lot of camouflage. Josie's nickname is Chunkers, and her nickname stays true to her love of begging for food. If she could talk, Miah believes she would say, "Every snack you make, every meal you bake, every bite you take, I'll be watching you."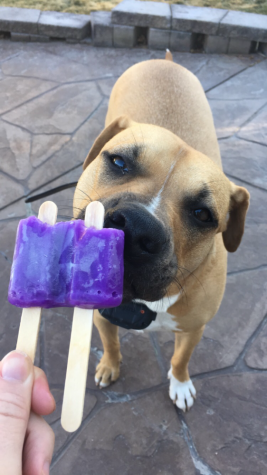 If you think your furry best friend deserves to be featured, get ahold of the LeSabre staff or email us.

About the Writer
Jordan Mareck, Journalist
My name is Jordan Mareck, and I am a senior at SHS. I enjoy trying to play tennis and yelling at the refs during basketball games. This is my second and...