The Crumbl Cookie store has been the best treat court in South St. Cloud and is somewhere you should check out if you haven't already.
"
The Mystery Cookie (Hot Chocolate) tested just like hot chocolate, and I really enjoyed the mini marshmallows on top!
— Tony Collatrella
We are very thankful they had amazing flavors for our last week. The flavors are Dirt Cake, Vanilla Sugar (Halloween), Chocolate Peanut Butter Pie, Pumpkin Roll, and Hot Chocolate.
"
The Pumpkin Roll tasted like carrot cake and pumpkin all in one. I was thrilled when I bit into it because I could taste the autumn spices.
— Zachary Swanson
We are very appreciative that they are so dedicated to impressing their customers. We will miss the workers, cookies, and the time spent missing the first block.
The top three cookies are described below!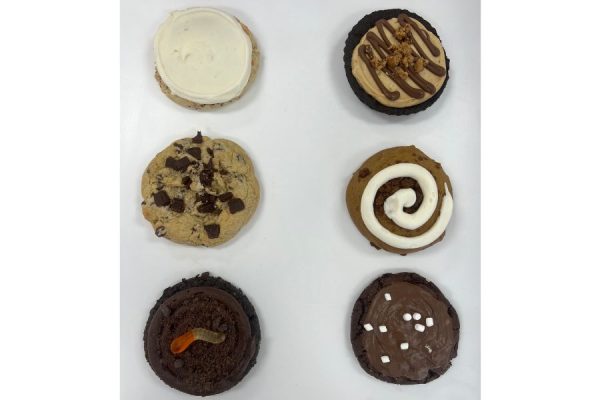 Our favorite this week was Pumpkin Roll. It's a pumpkin cookie with a blend of autumn spices, topped with a spiral vanilla cream cheese frosting.
Second was the Hot Chocolate. It's a rich chocolate cookie smothered in hot cocoa-flavored mousse and topped with fluffy mini. marshmallows.
The third best was the Dirt Cake. A chocolate cookie coated in cookies & cream crumbs and topped with fudge chocolate frosting, chocolate streusel, and a gummy worm.
Enjoy the video below!
Zachary Swanson and Tony Colatrella last Crumbl Cookie review. 🙁