Barbie Diversifies: Hijab Barbie
If you were ever a five-year-old girl, you most likely are familiar with Barbies. Even if you've never played with the doll, you have probably heard the infamous "Barbie Girl" song by Aqua.
Barbie is often referred to as "the perfect girl"; however, the flaw is that Barbie is modeled after society's mundane descriptions of such a girl. The original Barbie is skinny, blonde, blue-eyed, and white. There is nothing wrong with having these characteristics, but Barbie previously defined beauty by having such features.
In 2016, Mattel released a more inclusive line of Barbies, labeled Barbie Fashionistas. This new line included different types of Barbies such as curvy, petite, and tall. This allowed young girls (and boys) to be exposed to different types of perfect, and it also made it easier for them to find a Barbie that they resembled. In total, the Barbie Fashionista line included three more body types and seven skin colors. Mattel wrote on their website, "By introducing more variety into the line, Barbie is offering girls choices that are better reflective of the world they see today. The new 2016 Barbie Fashionistas collection includes four body types, seven skin tones, 18 eye colors, 18 hairstyles, and countless on-trend fashions and accessories." Although the Barbie Fashionista line was a big breakthrough for diversifying the company, it still didn't include everyone.
On this past Monday, November 13th, The Barbie Mattel company recently made another step in diversifying the company. At the Glamour Women of the Year gala in New York, the first hijab Barbie was introduced. Even better yet, the doll was modeled after Ibtihaj Muhammad, an honorable Olympic fencer!
With these new dolls, more little girls will have the opportunity to find their Barbie persona, and be inspired to do anything their little hearts desire. As Barbie says, "You can be anything!"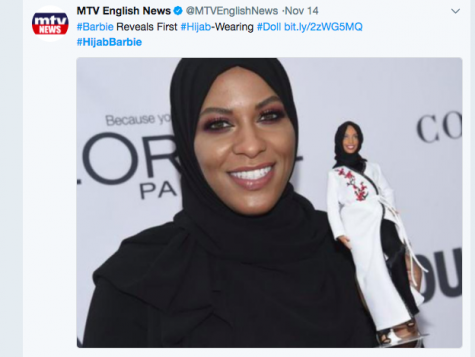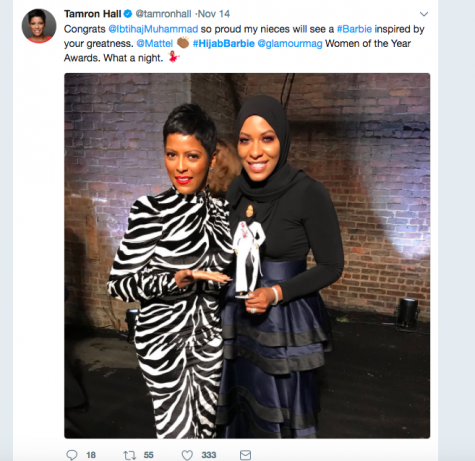 Read more about Barbie and the release of the new hijab Barbie here:
http://mashable.com/2016/01/28/barbie-body-shapes/#W2pP8vHS38qy
https://www.washingtonpost.com/news/early-lead/wp/2017/11/14/hijab-wearing-barbie-doll-introduced-in-honor-of-olympic-fencer-ibtihaj-muhammad/?utm_term=.1b47f0745a78

About the Contributor
Jordan Mareck, Journalist
My name is Jordan Mareck, and I am a senior at SHS. I enjoy trying to play tennis and yelling at the refs during basketball games. This is my second and...