This Halloween playlist is sure to get you in the SPOOKY mood
October 31st, 2020 is going to be a pretty sweet Halloween; not only is it on a Saturday but a blue moon will be lighting up the sky (a full moon on Halloween only happens every 18-19 years), and we also get an extra hour of sleep because daylight savings time is coming to an end. 
So even though Halloween parties will be scarce because of Covid, that doesn't mean you can't still have a ghastly good time. If you are anything like me and have been listening to Halloween music since well before October 1st, then you know there are many songs out there perfect for the spooky season vibes. No matter how Halloween turns out this year, having the right music to go along with whatever you plan on doing is sure to get you in the spirit.
Here are some suggestions for a killer playlist… 
The Classics: 
These Halloween favorites need little introduction; they are any Halloween playlist essential.
Monster Mash- Bobby Pickett, The Crypt-Kickers
Thriller- Michael Jackson
Ghostbusters- Ray Parker Jr. 
Super Freak- Rick James
Weird Science- Oingo Boingo
Psycho Killer- Talking Heads
Superstition- Stevie Wonder
Dead Man's Party- Oingo Boingo
This is Halloween- The Citizens of Halloween (The Nightmare Before Christmas)
Somebody's Watching Me- Rockwell
Halloween theme- John Carpenter
Bewitching new favorites: 
Who knows maybe you'll find something you like!
Howlin' for You- The Black Keys
Teeth- 5 Seconds of Summer
Heads Will Roll- Yeah Yeah Yeahs
When I was little I distinctly remember watching the music video for this song and being so terrified of the wolfman and his glowing red eyes. Maybe that's why I can only associate this song with Halloween because it was so scary. 
Hole in Your Heart- Royal Blood
Mr. Doctor Man- Palaye Royale
I like to describe Palaye Royale's music as very spooky and Halloweeny. Their aesthetic is very old-fashioned gothic with heavy rock influences and their music reflects that, one of the reasons I love the video for this song.  
Wicked Ones- Dorothy
Supermassive Black Hole- Muse
One of the only good scenes to come out of 2008's Twilight was the scene in which the Cullen family has a nice competitive game of baseball, during a thunderstorm. This song only made the scene 10x cooler. 
Used to the Darkness- Des Rocs
Midnight City- M83
Not only is it a great song for a late-night drive, but it was also a great touch to a scene in the movie Warm Bodies which was a zombie retelling of Romeo and Juliet. Ah, Romeo wherefore art thou's brain?
Sinister Kid- The Black Keys
Maniac- Conan Gray
In a very haunting music video, Conan and his friend Jess are tormented by zombified versions of Jess's exes. And just like any good Halloween movie, they are forced to take them all down. 
Vampire- Dominic Fike 
Black Magic- Jaymes Young
Check out all these songs and more on my Spooky Season playlist below. And remember, no matter what happens this Halloween, stay safe and rock out to these spooky vibes in the creepy comfort of your own home. Happy Halloween!
About the Contributor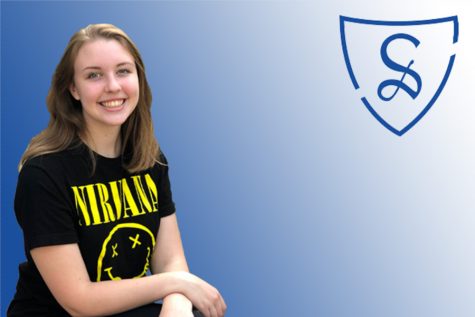 Charlie Monson, Journalist
Grade: Senior

Hobbies: Watching movies, playing video games, doing art, listening to music, and hanging out with friends

Favorite band/singer: Arctic...