Trump's new supreme court pick: Amy Coney Barrett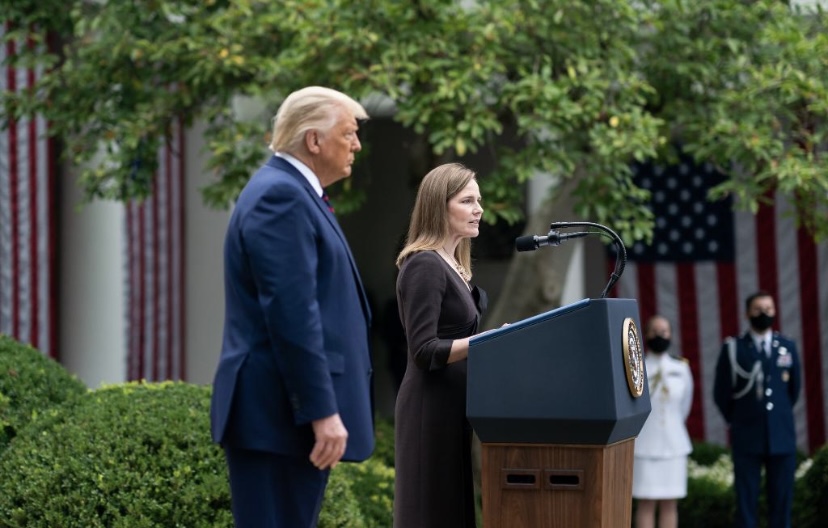 President Trump nominated a new supreme court justice soon after justice Ruth Bader Ginsburg passed.
On September 18th 2020, Supreme Court Justice Ruth Bader Ginsburg died at the age of eighty-eight due to pancreatic cancer. There is now much question if Ginsberg will be replaced in the Supreme Court before or after the 2020 Presidential election on November 3rd. Days before Ginsberg's death, she requested that her spot in the Supreme Court should not be replaced until a new president is elected. Despite her wishes, President Trump has a new pick for the Supreme Court. 
After the death of RBG, there was much speculation about who was going to replace her and when. Trump does have a new pick to replace Ruth and the new pick is a woman. Amy Coney Barrett is the newest nominee. Barrett is a lawyer who has worked in the political field for many years. Barrett is far right and has been known to bring her strong Christian faith into politics. Although Trump is eager to fill the spot in the Supreme Court there is a question as to if Trump is allowed to get her in before the election.
"
My most fervent wish is that I will not be replaced until a new President is installed."
— Ruth Bader Ginsburg
Barrett grew up in Louisiana and attended an all girls Catholic high school. Barrett was a very successful student in high school and went to college on a full ride scholarship at Rhodes College. At the moment, Barrett is serving on the Seventh Circuit in Chicago and teaches at Notre Dame law school. Barrett was being considered for the Supreme Court in 2018, but Trump decided on appointing Brett Kavanaugh instead. 
In March of 2016 former president Barack Obama made the attempt to appoint a new judge into the Supreme Court nine months before the election. Mitch McConnell, Senate majority leader, did not allow the Senate to make a vote on Merrick Garland who was being appointed by Obama into the Supreme Court. There is confusion as to why there will be a vote on a new Supreme Court justice only two months from an election when the vote was not allowed into 2016 nine months away from an election. Many are questioning if Mitch McConnell has the power to allow a new supreme court justice before November 3rd, although he did not in 2016. 
NBC news
About the Writer
Kira Workman, Journalist
Kira Workman ('22) is 16 years old a Sartell High School student. Kira will be mostly writing about current events and sports. She loves to drink coffee...