Defining the defunding of Planned Parenthood
Since Trump's election, the Trump-Pence administration has vouched for the removal of Planned Parenthood health care centers to satisfy their heavily prominent anti-abortion agenda by enacting a "gag rule" towards the Title-X program, putting millions of women who rely on its benefits at risk.
So what does the cost exactly look like? To put it into perspective, if Planned Parenthood and Title X were to be completely defunded by the political system in the US this coming up reelection in November (as promised), 2.4 million patients who use its resources each year would be blocked access to its benefits, especially contraceptives, and all health services related to Planned Parenthood, leaving those patients with no other alternative.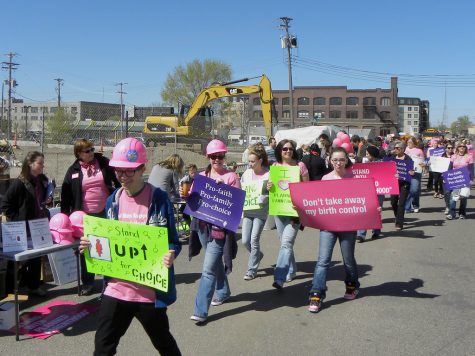 And what does "defunding" necessarily mean for Title X and Planned Parenthood? The misnomer, not actually meaning decreasing a federal budget, actually means that specific laws and regulations are set into place by the government so that patients who rely on programs like Medicaid or Planned Parenthood are denied access to that health care, and instead have to rely on government produced health options that do not include the services that Planned Parenthood would. For example Obria clinics, only have 10 accessible clinics (in comparison to Planned Parenthood's 600 nation-wide) and does not provide contraceptives, so it's safe to assume they wouldn't provide abortion or any other form of health care related to Planned Parenthood due to the government's views on this issue that clearly state that contraceptives, and other issues like abortion, should not be accessible. 
So what else would this "gag rule" block access to, and how prominent is it in society today? It would block access to not only contraceptives, but birth control, STI scanning and treatment (the most popular sitting at numbers as high as 4.2 million), Pap tests, cancer screenings, abortions, and even the reproductive education within itself that is provided at Planned Parenthood. The preeminent hold on society that Planned Parenthood actually has is very obvious when looking at the numbers. For instance, the clinics are visited by nearly 11,000 people daily providing all the services listed for people of any status whatsoever.
"
Patients expect their doctors to speak honestly with them, to answer their questions, to help them in their time of need. Imagine if the Trump administration prevented doctors from talking to our patients with diabetes about insulin. It would never happen. Reproductive health care should be no different."
— Dr. Leana Wen, president of the Planned Parenthood Federation of America
According to a study made, 6 in 10 women that access care from family planning health systems like Planned Parenthood consider it their main form of health care. The hold health care systems like Planned Parenthood have on society also branches out into the realm of global health care, in fact, 21% of countries that have a Planned Parenthood center say it is their only safety-net planning provider. A study done for the Planned Parenthood website also found that in 2010, Planned Parenthood served 2.2x as many women in need of birth control services as FQHCs (federally qualified health centers) even though they had been outnumbered 4-1. 
Stripping the United States of Planned Parenthood could ultimately lead to disaster, not only for US citizens that rely on its care, but patients around the globe who use it as their only form of health care. Although hardships reign heavy on Title X and Planned Parenthood amidst of the election, Planned Parenthood has stated that they believe that "Denying health care and education to millions of teens and adults won't make our country great." They also said they will continue to shell out their services no matter the political agenda and will "do everything in its power to stop them (the politicians vouching against them)."