Wishful thinking turns into a wish filled act!
Hang on for a minute...we're trying to find some more stories you might like.
In early September, Sartell High School's student council made its official decision to dedicate their 2017 "Homecoming for a Cause" to Sophie Lathe, a Sabre with Spinal Muscular Atrophy.
The council is doing this through the Make-a-Wish foundation. Last year, they also did the "Homecoming for a Cause" through Make-a-Wish— this wish was granted to Jackson Stuart, another Sartell Sabre, and the community raised just shy of $18,000.
Sophie is in the 5th grade at Sartell Middle School, and her wish is to go to Disney World with her family. The Lathes recently moved to Sartell in the last year; prior to that, they lived in Little Falls, MN. The main reason their family wanted to move back was to be able to build a house that is accessible to all of their children.
"
It didn't make sense that our house was not accessible to all of our children, but Sartell did make sense. "
— Garrett Lathe
Her father Garrett Lathe directed the Sartell High School choirs for 12 years, so they are no stranger to the Sartell community.
Spinal Muscular Atrophy is a genetic disease. Basically, it affects the motor nerve cells in the spinal cord, limiting the ability to walk, eat, and breathe. Sophie's case is type III, so it is not fatal. Sophie was diagnosed with SMA at a very young age. Her family was noticing that she was moving and functioning differently, so they took her to a specialist. Because it is type III, she does use a wheelchair. From time-to-time, she gets up and moves around, but most of her mobility requires a wheelchair. Sophie was however, the first patient in the Midwest to receive a Spinraza treatment that wasn't a part of a study. A Spinraza treatment is when doctors remove spinal fluid and replace it with the nusinersen (Spinraza). The medication is affecting her SMA in a positive way! At her last physical therapy test, Sophie's process did not deplete; the Lathes have not seen that in a very long time.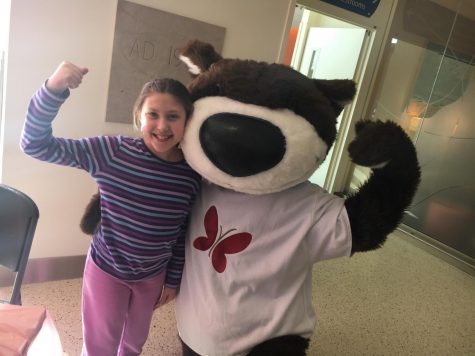 Even though Sophie has SMA, nothing slows her down in life. Both of her parents are choir directors, so she is very involved in the arts community. Currently, she is in GREAT Theatre's production of Junie B. Jones, playing the role of Grace who is Junie B.'s best friend, right alongside her older sister Kate. Sophie's spunky and bright attitude always lights up the stage and leaves a lasting impression on those she encounters. 
When asked what she is most excited for when she goes to Disney World, she immediately lit up and exclaimed "The Star Wars section!" Sophie could not be more ecstatic about going on this trip with her family. It is such an honor that the Sartell community is able to contribute to this dream coming true. With the Lathes being valuable, active community members, we are truly making something magical happen. Make sure to stop by the Sartell homecoming football game to hear the Lathe children sing the national anthem.  At the game, you can also make a donation to this special cause.