Sartell's Franco Cusipag participated in the local Dancing with the Stars for the Women's Fund of Central Minnesota this summer, completing a rigorous training process with professional Lucille Guinta, effectively raising nearly $40,000 dollars for the INDY foundation. 
The INDY foundation was founded by Kayla Strand. Kayla lost her husband to colon cancer in July of 2017 and the foundation was created in honor of him. Kayla had always had a big dream to start a nonprofit organization to help people battling cancer. The INDY tribe's purpose is to provide love, faith, and financial support by directly supporting the cancer survivor and their family instead of the battle at hand. 
According to the INDY foundation website, Kayla Strand, mother and founder of the INDY foundation:
"
Even in the darkest hours, my husband Kyle, managed to put a smile on his face. He always was the first to make sure everyone else was happy and okay even when he was in pain
— Kayla Strand
The foundation offers a number of programs for cancer warriors and their families.
Monthly Warriors: highlights an adult and their kid(s) each month by putting money directly in their pockets with no discrimination on the type of cancer they are diagnosed with or their

financial status.

The Backpack Program: provides "Warrior backpacks" for MN cancer warriors to area hospitals and cancer centers.

Emergency Fund: this program provides emergency funds which allows cancer Warriors to request a gas or grocery gift card to help during their cancer journey.
Interview with Franco Cusipag
Q: So I heard you were a part of the local Dancing With the Stars this past summer, do you have any thoughts on it that you want to get off your chest right away?
A: It was a very good experience for me, it was fun learning all the dances, and it was also fun supporting an organization and raising money for a non-profit.
Q: That's awesome! Can you tell me more about what the training process was like?
A: We practiced twice a week, for about an hour each practice for about three-four months. We learned the steps, we choreographed and practiced the steps.
Q: So I know that Lucille is the professional that danced with you, how would you describe her creative style?
A: Well, Lucille was very well-trained. She has a background in ballet, and was kind enough to volunteer and teach me the steps. I have no previous dancing background. It was kind of starting from scratch, but I have always liked dancing at weddings.
Q: What was the hardest part about the whole process all together?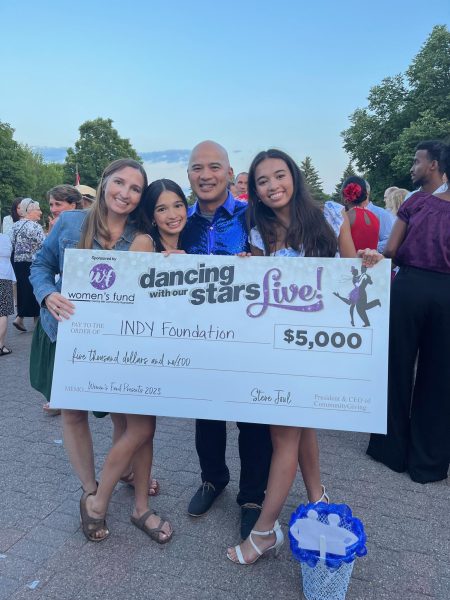 A: Raising the funds was a lot of work, so through events and fundraising and asking people to donate probably took the most, took a lot of effort, and needed a lot of help from volunteers. So, my wife helped and a few others that helped organize and man the events to raise funds for the non profit 
Q: So you're saying you were just a dance pro already, right?
A: I was
Q: What was your favorite part?
A:Dancing and performing, I think, was the best part.
Q: Was it because you got all tens?
A: I did get all tens. 
Q: And how do you feel about that?
A: I was really excited and nervous… and really hot, because the lights and my costume made me really hot.
Q: Okay last question! Would you do it again and would you recommend it?
A: I would! I would do it again, and I would highly recommend it to people who want to raise awareness for their nonprofit and also have fun dancing.