Pass, set, HIT into the Sartell volleyball season
With an inside look and some previews for this year's Sartell volleyball team, the girls are having a great fall season. There are even some words from the captains themselves about this season.
The Sartell volleyball team has had a full schedule of back-to-back games on Monday, Tuesday, and Thursday. They started the week playing Buffalo, then played at Apollo on Tuesday, and ended the week with a clean sweep win against Rocori. 
Captain Courtney Stutsman had some words about the Buffalo game: "I think the game went really well, we competed really well, we played well as a team, and hopefully next time we play them we come out on top."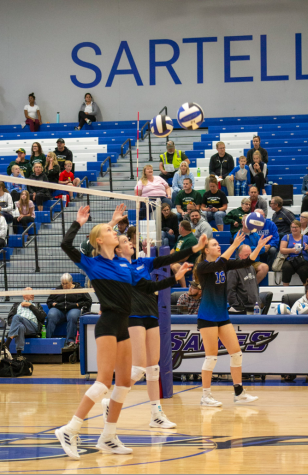 In the past, the Sartell girls' volleyball team has done well. But this year, the girls' stats have been through the roof! Captains Ellie Rengel, Courtney Stutsman, Grace Schulte, and Avery Templin led the girls with a 9-2 overall score. 
Avery Templin also had a few choice words about the Apollo game: "I think we did good, but we definitely could have played better, but we still won in 3 so I think we did good overall." 
On Monday, September 12th, the volleyball team played their first of three games for the week, starting against Buffalo. The girls lost in the 5th set, leaving the score 15-7, but the girls' spirits were not down. After a short, sweet victory against Apollo, the girls were ready for their next game against Rocori. 
The Rocori game was yet another clean sweep for the Sabres!
One of the captains, Ellie Rengel, had some words of wisdom, saying, "I think this week went really well. On Monday we played Buffalo and lost but a lot of people stepped it up and played their hardest, which is really cool. Tuesday, we played Apollo and we won by three and that was nice. Then yesterday [September 15th] we played Rocori and won in three again. It was an insane game because there were a lot fans and it was really fun." 
The girls are having an absolutely fantastic season. The school is excited to see how they will play for the rest of it, with no doubt that they will put in their best effort and bring back a new trophy for everyone to gaze at when they walk by. 
About the Contributor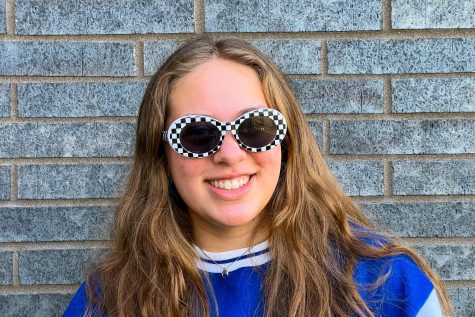 Ava Tavale, Journalist & Team Building Coordinator
Grade: Senior

Hobbies: Being with friends and family, listening to music, and online shopping

Best Shoes: Anything Nike

Cars Name: Maui

Favorite...