Humans of Sartell: Seniors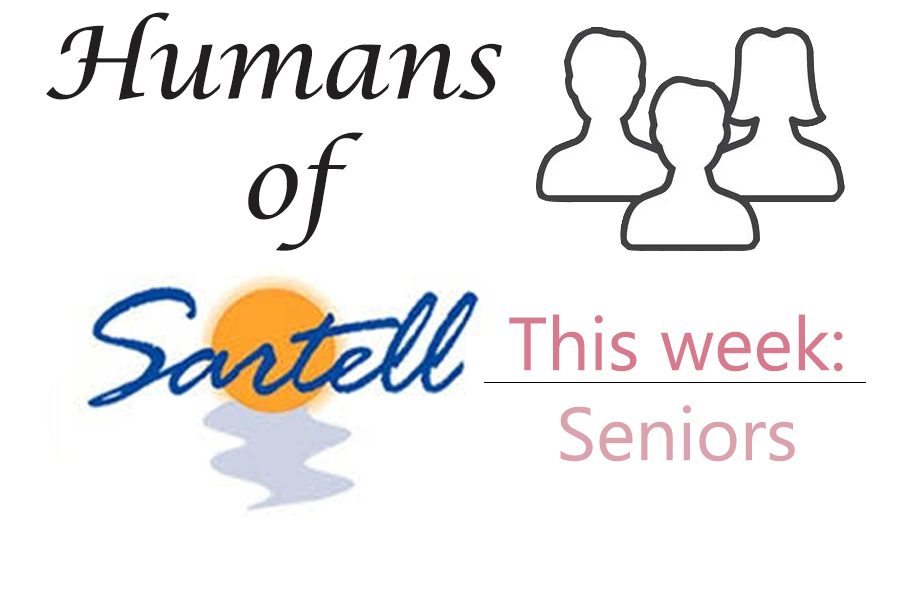 This week, Humans of Sartell got a taste of our Class of 2019 Senior's lives!
---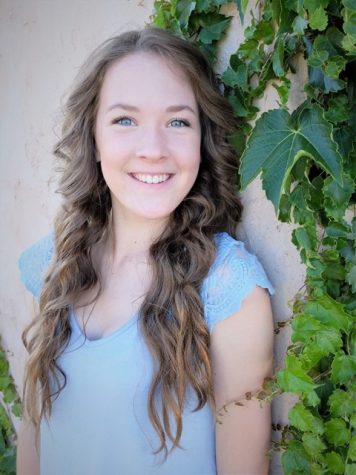 Our first Senior is Elizabeth, aka Izzy, Kucala is on the Sartell High School Dance team and does everything dance. She also has an identical twin, Anna Kucala.
Izzy is ready to hit the road to college. "I will definitely not miss the homework load, but I am going to miss the people I have known for 13 years." Izzy's favorite teacher would have to be Gregory James Henning because he inserts himself into the lives of his students. Izzy has taken a whole lot of classes that seem to be stressful and have a larger homework load.  But she feels like those classes tend to be more interesting than your regular core classes. Nyle Dimarco is someone that Izzy would love to hang out with for a day. "He is deaf…he won Dancing with the Stars and couldn't hear the music, but he still won."
Izzy is one of the many seniors leaving the Sartell dance team this year. She has plenty of friends in all of the grades that are on the dance team and seems to know a big chunk of students who are underclassmen along with upperclassmen. Izzy's favorite genre of music would have to be early 2000's pop.
"
…The good oldies, … our oldies."
— Izzy Kucala
One of her favorite artists in that genre is Beyonce, Jason Derulo, early Rihanna music. "They're just so… CLASSIC"   
---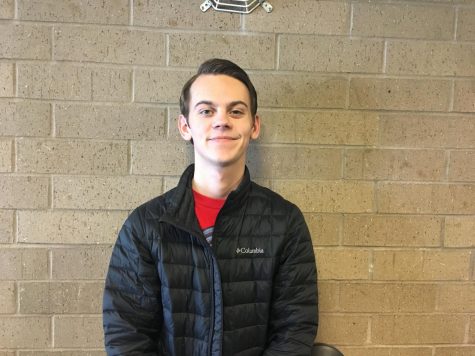 Our second senior, Thor Anderson is a theatre junkie and was nominated for  2019 Homecoming Royalty. 
Thor is super excited to be heading to college and thinks he won't miss high school for the first few months. Out of all the years of Thor's high school career, Mr. Snyder has been Thor's favorite since he started AP classes.  Thor enjoys having Snyder because of how laid back he is and how fun class is. Thor has enjoyed taking AP classes because of the challenge it gives him to be better in the subject. Thor's friends consist of every grade and a little bit of different personality in each friend.
Thor's greatest legends would have to be MLK, Jesus and Honey Badgers. If he could choose one of them to hang out with it would have to be Jesus. Thor's favorite genre of music would have to be rap. Thor's favorite rap artists are Chance the Rapper and Lecrae.  The reason why he enjoys these artists is because
"
Rap gives a different perspective then what I am living."
— Thor Anderson
---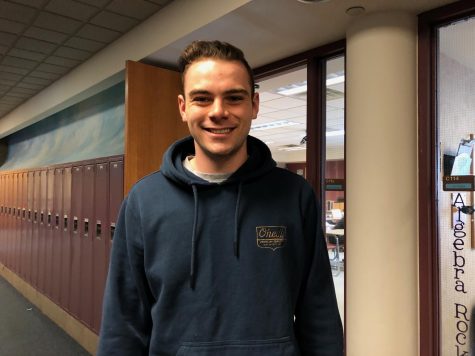 Nathan Stoebe is a senior at SHS and is involved in various activities such as hockey, golf, choir, and Student Council. He also was voted Best Dressed for the Senior Hall of Fame. With the year coming to an end, Nate has a pretty clear picture of high school, "High school has been awesome; I think that high school has afforded me a lot of educational opportunities that I otherwise wouldn't get at any other school, and the friends that I've made in high school through athletics and other activities, such as music, have been awesome." Although he enjoyed his time at high school, he is looking forward to the future, "I'm excited for the next stage of life because that's all you can do."
Like most seniors at SHS, Nate partakes in college and AP classes. He commented on the difference of advanced classes and regular classes, "I wouldn't say I like them better but they're a ton different in the curriculum that they pursue.  It's not as fact-based, it's a lot more analysis."
Nate may not go out of his way to create friendships with people outside his grade but when he does he truly appreciates it, "I have actually quite a few friends that are outside my grade. I have a few sophomore friends through sports – I met my neighbor through golf – and mixing ages up allows for a better perspective on life and allows you to enjoy it better instead of sticking with one single group of people." Nate touched on the myth of upperclassmen hating underclassmen, "Personally, I think it's your obligation to give back to your school because the upperclassmen gave to us as freshmen.  I think we should do the same and be kinder to younger individuals." He also expanded on what he thought differentiated the older grades from the younger ones: "There's definitely a difference, not only in age and stature but also in how you conduct yourself and in maturity."
With his years of experience Nate talked a little bit about his favorite teacher, which is a little surprising, "My favorite teacher is Mrs. Keller, who works at the Sartell Middle School.  She has done wonders for my life and also enabled me to come in and work with her as a teaching assistant this year. So yeah, she really helped me out and furthered me and enriched English and because of that I've gone very far in English." He also talked about what are some of his favorites outside of school, "I actually just got done watching The Handmaid's Tale. I don't know about music… I enjoy every type of music so I don't know what's my favorite." Finally, he decided what in his opinion are the three greatest legends of all time:
"
Jesus is great, he's a legend, I think Ronald Reagan is a legend… and I think Dr. Martin Luther King Jr."
— Nate Stoebe
---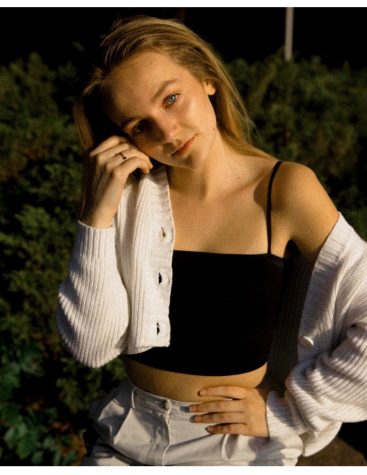 The last of the seniors is Emma Rasmussen.  She was once a player on the tennis team, but she mainly focuses on her job at Barnes and Nobles and school now. She was voted into the Senior Hall of Fame for Most Likely to Model. She took a look at her own high school experience and shared her thoughts, "I think it's a lot better than people make it out to be… It's not the best, but I still enjoyed my time here and I made good friends and I found the people that I like, and you make the most of it." She acknowledged that she will most likely miss the familiarity of it all but followed it up with, "I'm probably a lot more excited to go than I am worried about missing still being here. Like I'm kinda over it."
Senior year has been good for Emma, "It's just so much more fun being a senior, it's so much more chill… maybe it's because it's kinda the end of the world as we know it… like nothing I do even matters." Popular opinion says that there's a noticeable difference between being an upperclassmen and an underclassmen, and Emma agrees with this. She feels that it's "all-mental" and that it is essential to go through all those years of experience to finally be able to see the large differences that most upperclassmen see. Emma has not befriended any underclassmen simply because she never really had any place to interact with them. "I became friends with people who were in my classes… it just happened to never really be underclassmen," she said matter-of-factly. Emma was honest when it came to how nice she would be to an underclassman if she were to have a run-in with them, "I don't think I'd be mean to them but I wouldn't go out of my way to be super nice to them, so like that's not inherently nice so I don't know, you tell me."
AP and college classes are fairly popular at Sartell, and Emma is no exception. She shared why she thinks getting college credit is so important and why she took so many AP and college classes, "College is expensive, yo. I took them solely because I wanted college credit, and I needed to save money." Emma also enjoys college and AP classes wildly more than regular classes, "It's more fun and not as annoying. You do a lot less busy work and daily work… you just write papers and take tests and participate in debates. The teachers just treat you so much better. There's more respect and responsibility that comes along with it…there's a lot more trust."
Emma raved about her favorite teachers Mrs. Rollings and Mrs. Nelson, "Rollings has that brash, but honest personality, and I really enjoy it because you don't really get that from a lot of people especially from teachers. And Nelson's just a sweetheart, and I love journalism and I love art, so it kinda just adds up." Her runner-up though came from the Social Studies department, "History teachers are great, they're so fun, they always make me laugh the most." The classes Emma enjoyed mainly tied to the teachers she loved, "Love journalism, took that a lot, I really loved AP art, I loved any history class… I like how you can always tie in current events to history classes, along with journalism."
Emma watches and listens to a variety of TV shows and music but she seems to know what her favorites are. "You got the classic trifecta of New Girl, The Office, and Friends," which Emma seems to just have running in the background whenever she finds herself bored. For shows, she likes to actually sit down and watch she said, "Always love Queer Eye, it's just paradise the whole way through, you never feel bad. I'm winning, they're winning, it's all good." Emma has been grooving to mostly Radiohead recently, and anything that "sounds like spring."
Emma easily named who held the title of greatest legends of all time in her eyes, "I love Angela Davis, I love everything about her. Love Muhammad Ali, spend a lot of time watching Muhammad Ali boxing videos. Jimi Hendrix, what an icon, what a revolutionary, love him. Those are my three."
---
Stay in tuned for next week; Humans of Sartell: Foreign Exchange Students!
About the Contributors
Emily Anderson, Journalist
I have lived in Sartell for 4 years now, and I am a senior at Sartell High school. I have a tenth-grade brother who attends SHS and three other siblings...
Rachel Ditmarson, Journalist
Rachel Ditmarson is a senior at Sartell High School. She enjoys making collages and cutting her bangs, only to regret it the next day. Rachel is notorious...