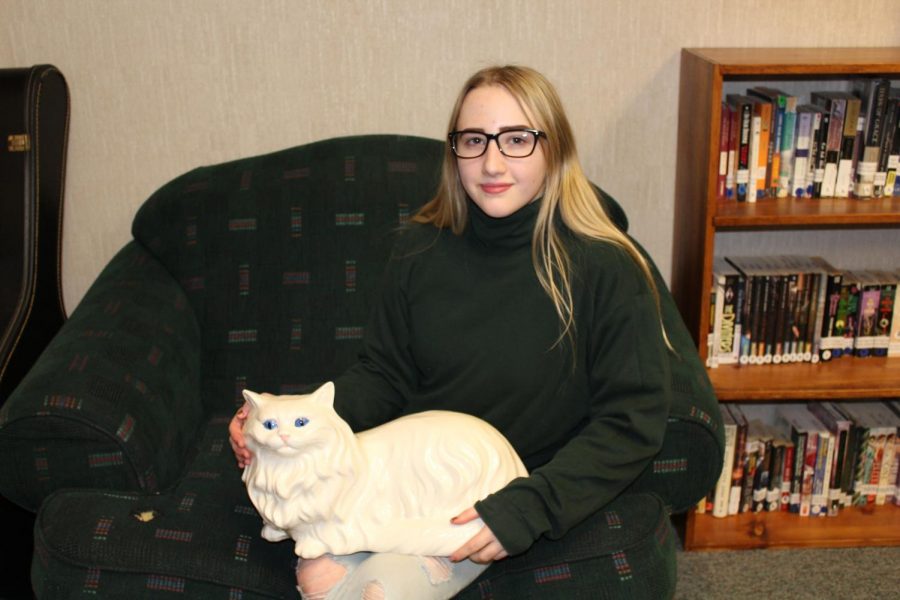 Grade:
Senior
Go-to Article of Clothing:
Turtleneck
Living Room Decoration Must Have:
 A ceramic cat
My favorite animal:
Dog and goats
My favorite car:
A white Range Rover
Quote to Live By:
 "Now, I know we have still not shattered that highest and hardest glass ceiling, but someday, someone will, and hopefully sooner than we might think right now. And 
to all the little girl whose are watching this, never doubt that you are valuable and powerful and deserving of every chance and opportunity in the world to pursue and achieve your own dreams.
" - Hillary Clinton
Life Soundtrack:
 "
Backseat Freestyle
" by Kendrick Lamar
Biggest Pet Peeves:
People who don't use their blinker while driving, and people who walk slow in the hallways.
TV Show Twinsie:
Leslie Knope from
 Parks and Recreation 
Things I Do For Fun:
Make-up
I'm most passionate about:
Saving and helping animals
Kassy Markey , Journalist
May 29, 2018

Find a new best friend at the Tri-County Humane Society!

(Story/Media)

May 22, 2018

Cuban plane crash leaves over 100 dead

(Story)

May 21, 2018

Santa Fe shooting leaves 10 dead

(Story)

May 14, 2018

Mass shooting in Australia

(Story)

May 14, 2018

Volcano terrorizes Hawaii

(Story)

May 03, 2018

Last minute prom makeup recommendations

(Story/Media)

Apr 23, 2018

United States launches missiles at Syria

(Story)

Apr 23, 2018

Illinois senator makes history…twice

(Story)

Apr 12, 2018

YouTube shooting sparks gun control debate

(Story)

Mar 21, 2018

Austin bombings confuse police

(Story)

Mar 20, 2018

Nikolas Cruz faces death penalty

(Story)

Mar 15, 2018

Sri Lanka social media ban

(Story)

Mar 12, 2018

"The Bachelor" Bill

(Story)

Mar 08, 2018

Phantom Friends: The classic haunted house

(Story)

Mar 06, 2018
Mar 03, 2018

My favorite LUSH-ious bath bombs

(Story)

Mar 01, 2018

Hidden Gems: Bumbledees

(Story)

Feb 23, 2018

Florida tragedy: one week later

(Story)

Feb 08, 2018

The Rise of Veganism

(Story)

Feb 08, 2018

Entrepreneur, influencer, mother: Kylie Jenner

(Story)