Crumbl Cookies of the Week Review
Crumbl Cookies has grown to be a nationwide catch. From the original gourmet cookies to the new weekly flavors, Crumbl Cookies is the next big thing. The flavors for the week of January 9 include Confetti Cake, Peanut Butter Cup, Lemon Cheesecake, Rocky Road, along with Milk Chocolate Chip and Classic Pink Sugar. I decided to review them this week. 

Milk Chocolate Chip– This is the original cookie that jump started Crumbl Cookie's franchise. This cookie was warm, chocolatey, and just melts in your mouth. A classic!
Confetti Cake- This cookie reminded me of a birthday cake. It was a warm confetti flavored cookie with pink vanilla frosting and topped with confetti sprinkles. This was my favorite cookie this week.
Peanut Butter Cup- Peanut Butter Cup tasted exactly how it sounds. This cookie was thick and loaded with peanut butter, topped with another layer of peanut butter and bits of Reese's Peanut Butter Cups. If you are a peanut butter lover, this cookie is for you! 
Lemon Cheesecake- For all the cheesecake lovers out there, this cookie was so yummy. From the graham cracker base of the cookie to the smooth lemon curd on top, this cookie was exactly what a cheesecake should taste like. There was also a creamy lemon frosting below the lemon curd that just took this cookie to the next level. Delicious! 
Rocky Road- This cookie had a rich chocolate base, stuffed with marshmallow filling and topped off with chocolate chips and almonds. If you are a fan of rocky road ice cream, this cookie would be right up your alley. I think this flavor added more variety and creativity to the menu. This was definitely another delicious one! 
Classic Pink Sugar- This one is another classic. It was a chilled vanilla sugar cookie topped with pretty pink almond frosting. In my opinion, this is the perfect sugar cookie. You can't go wrong with this one! 
About the Contributor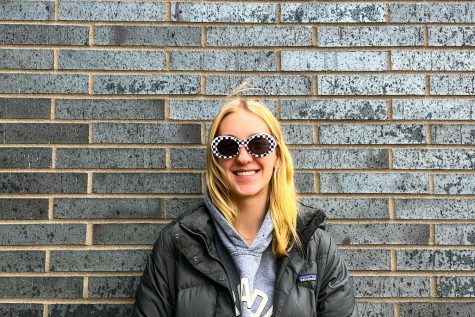 Courtney Stutsman, Journalist
Grade: Senior

Hobbies: Volleyball, Spending time with friends, Shopping

Favorite Restaurant: Chick-Fil-A

Favorite Movie: Moana

Favorite Season:...