The Minnesota Vikings defeat the New England Patriots
The Vikings game on Thanksgiving this year was definitely one to remember and was the first one the Vikings have ever hosted on Thanksgiving.
On Thursday the Vikings played the Patriots at The Bank in Minneapolis at 7pm. The Vikings took the win in this game although it was a well fought game from both teams. The final score of the game was 26 Patriots and 33 Vikings, leaving the Vikings record (9-2) and the Patriots (6-5).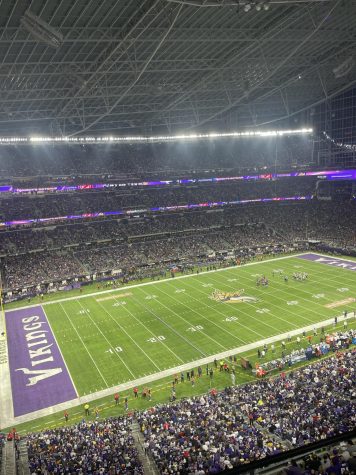 To start the game the Patriots won the coin toss and elected to defer giving the Vikings the ball to start the game. After a long first drive down the field Kirk Cousins found Justin Jefferson on a slant route into the end zone giving the Vikings the first score of the game, the lead that didn't last very long. The Patriots flew down the field and scored on a 34-yard pass from Jones to Agholor, tying back up the game within two minutes of the Vikings touchdown. The Patriots finished off the quarter with a 34-yard field goal by Nick Folk. 
The second quarter consisted of 3 field goals and 1 touchdown. The scoring started back up in the second quarter by a field goal from Greg Joseph. Three minutes later the Patriots responded with a field goal of their own making it a 13-10 game the Patriots leading. The Vikings marched down the field resulting in a TJ Hokenson's touchdown. This was Hockenson's first career touchdown as a Minnesota Viking making it a memorable moment for him. The Vikings ended up leaving too much time on the clock and the Patriots got all the way into the red zone and capped off all of the scoring in the second quarter with another field goal making it 16-16 at halftime. 
The third quarter scoring got started five minutes in when Mac Jones hit Hunter Henry on a 37 yard pass. The Vikings answered quickly when Kene Kwangwu took the next kickoff 97 yards all the way back for a touchdown. With that touchdown from the Vikings the game was now tied at 23. The Patriots then got a field goal later on and that was the last of the scoring for the third quarter. 
In the fourth quarter the Vikings did all of the scoring and held the Patriots to zero points. The Vikings started with a field goal which tied the game up again. They then got a stop on defense and the Vikings got offense back on the field which ended up with a Cousins to Thielen pass and a 15-yard touchdown. This was the last of the scoring for the night and the Vikings came away with a victory. The final score ended up being 26-33 and the Vikings players had post game interviews while eating turkey legs to celebrate their win!
About the Contributor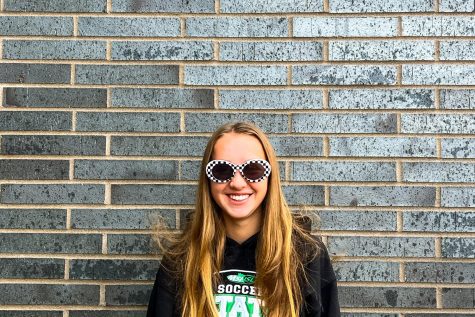 Kendal Omann, Journalist
Grade: Senior

Favorite movie: Zootopia

Best restaurant: Olive Garden

Favorite color: Light pink

Favorite season: Summer