Kicking off winter sports at Sartell High School
As the Minnesota winter quickly approaches, the athletes at Sartell High School are getting into their winter sporting competition debuts. From the ice rink to the swimming pool, excitement is peaking for the student athletes.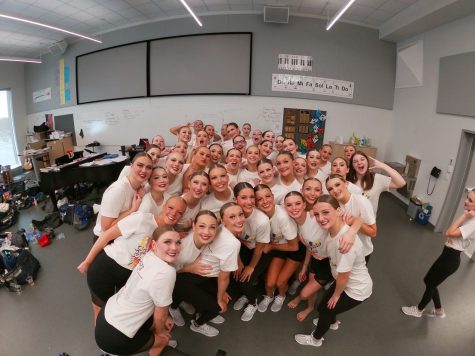 One team that has already been able to show off their hard work on the big stage is the Sartell Dance Team. Senior and captain, Claire Quinn has been dancing since the age of two. 
She explains why she has stuck with this sport for so long: "I love all the different styles and being able to dance with my team."
Sophomore, Brinkley Zable has been a part of the dance team for both of her two years of high school. She said that her favorite thing about dance is getting to perform with her team. 
Both the boys' and girls' hockey teams have been hard at work on the ice. Senior and boys' hockey team captain, Nolan Smith has been playing hockey for 12 years. He explained the importance of having a team on the ice that you can fight for, knowing that they will fight for you too.
Senior and girls' hockey team captain, Peyton Sabart talked about how the girls' team is looking very diverse this year. The team has girls everywhere from eighth grade to senior year, all possessing a very wide variety of talents. Sabart said, "It's a super fun sport, I am able to be active and have that team aspect."
"
I love the people, I love the team."
— Peyton Sabart
Things are picking up in the pool as the boys' swimming and diving team gets ready to start their season. David Binsfeld is a senior captain that has been competitively diving for the team for five years. He said the best part about being on the team is having a close group of guys you know you can always trust and count on throughout the year, in and out of season. When asked about his leadership role, he said that being a captain gives him another level of involvement with the team.
Junior captain George Larson is looking forward to the upcoming season. He loves how competitive swimming is, but he said his favorite part about the team is the people he has been able to meet and the relationships he has been able to build.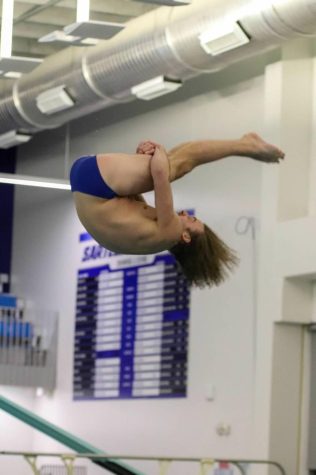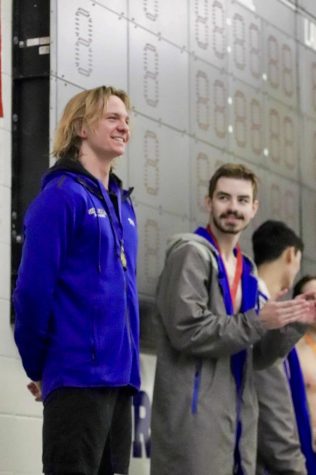 The Nordic Ski team that Sartell high schoolers practice with is combined with Cathedral High School. Violet Steil is a senior captain, and she has been skiing for the team for six years.
She says, "I love making memories with the team and getting to meet people from the cathedral."
Her favorite part of the sport is getting to meet new people.
Things are getting heated on the basketball court as the season quickly approaches. Ella Gainsforth is a senior on the girls' basketball team. She has been playing since third grade. Gainsforth said she is looking forward to starting strong and hopefully finishing strong.
"
I love getting to be on the court with my best friends every day."
— Ella Gainsforth
Freshman Marni Koosmann is looking forward to being with the team.
Brady Husmann is a senior on the boys' basketball team. The sport has been a big part of his life, playing since 1st grade. He is looking forward to having fun with the teammates he has been playing with his whole life for one last year. 
The gymnastics team is tumbling into the 2022-2023 season. Makenna Hauck is a senior captain on the gymnastics team. Makenna has been dedicated to the sport of gymnastics for 14 years. She loves getting to practice and compete with her teammates, and she is looking forward to experiencing the season one last time.
Sartell has a variety of both athletic and academic extracurricular programs, many of which are always looking for new members to join their team. If interested in joining a team, visit the athletic office to talk to Amie Hentges or Bruce Thompson.
About the Contributor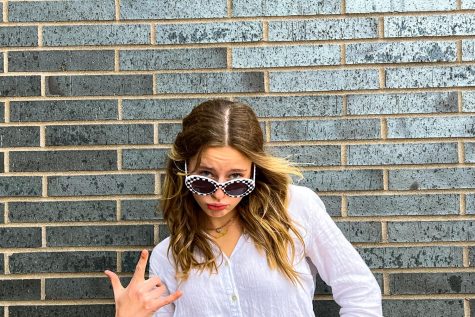 Gretta Johnson, Journalist
Childhood celebrity crush: John Smith (from Pocahontas)

Favorite movie: Midsommar

One color to describe my personality: red