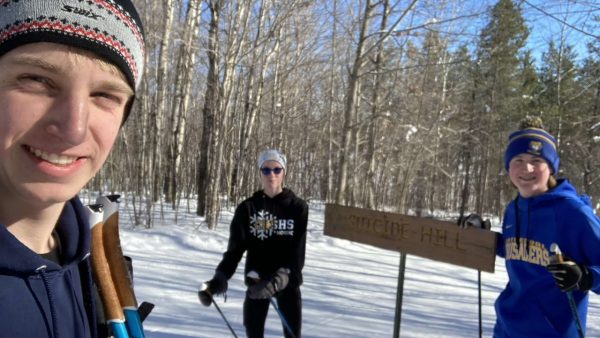 With the temperature starting to drop with snow soon to follow, winter sports are beginning to kick off.  The Sartell winter sports include dance, hockey, boys' swimming, basketball, nordic skiing, wrestling, and adaptive floor hockey.
The Sartell-Cathedral combined nordic ski team started on Monday, November 13th, 2023.  The Sartell nordic ski team is led by 5 captain: Mady Dockendorf, Annabelle Tauges, Ben Thompson, Gavin O'Connell, and Andrew Hackenmuller. The team is trained by the new coach, Mr. Phillips.  
The first meet is on December 11th, 2023 at the Sartell Middle School soccer fields hopefully with enough snow! Before snow is present on the trails, the team roller blades and conditions for the season ahead.
Upcoming skiers, Briella Kiley, Natalie Rahm, and Ben Thompson, answered some questions in honor of the season starting.
Grade and how long have you been skiing?
Briella: I'm a senior, and I've been skiing since freshman year.
Natalie: 12th grade and I've been doing it since 8th grade.
Ben: I'm a senior.
Favorite nordic skiing memory?
Briella: Going to Maplelag with her friends during winter break and eating a ton of cookies. 
Natalie: Sledding on the big hills.
Ben: Maplelag which is a retreat that we used to go on over winter break, where we all got to hang out, bond, etc.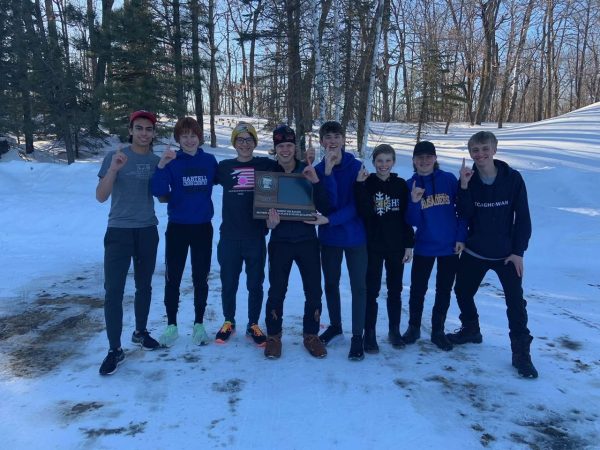 Pre-race ritual?
Briella: None
Natalie: Relaxing
Ben: Not really, but we play games on the bus!
Favorite trail?
Briella: St. John's
Natalie: St. John's
Ben: St. John's