After Travis Kelce extended an invite to Taylor Swift, she was seen in attendance at the Kansas City Chiefs game against the Chicago Bears at Arrowhead Stadium on September 24th.
In July 2023, Travis made no effort to keep his interest in Taylor a secret. Taylor fans make and trade friendship bracelets in support of her Era's Tour. He made a comment mentioning he wanted to give Taylor a bracelet with his number on it. He did not end up seeing her since she wasn't willing to see anyone at the time, but this was enough to make headlines.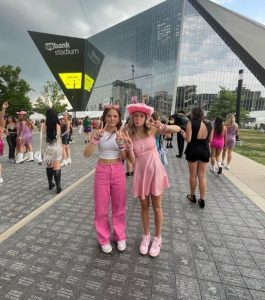 Taylor was seated in Travis Kelce's family suite beside his mother Donna. Travis told Kansas City quarterback, Patrick Mahomes, that she was coming, but Patrick wasn't sure he was telling the truth.
After the team's victory, Travis and Taylor were seen leaving the game together. Travis rented out Prime Social Rooftop for a private party for his team, family, and Taylor.
When asked about the relationship, Kelce said:
"
I threw it out there; I threw the ball in her court, and y'know, I told her … 'I've seen you rock the stage in Arrowhead. You might have to come see me rock the stage in Arrowhead and see which one's a little more lit.' So we'll see what happens in the near future.
— Travis Kelce