The silence breakers take on the Globes
This past Sunday, January 9th, the annual Golden Globes took place in the Beverly Hilton in Beverly Hills, California. This year marked the 75th annual of the gathering, and to celebrate, renowned movie stars and producers gathered to recognize the top film achievements of the year.
The Golden Globes normally present an opportunity for celebrities to flaunt their extravagantly unique fashion; however, this year was different because everyone wore black. Why? The dress code was not actually a dress code, but instead, it was a movement. The year of 2017 allowed many victims of sexual assault to step out of their shadows and seek justice. With this, numerous Golden Globe invitees were revoked of their welcome upon claims and cases of sexual assault. The majority of those who were invited wore black in order to convey support for those who have been sexually abused. According to an interview of Meryl Streep by E! news:
"
We feel sort of emboldened in this particular moment to stand together in a thick black line dividing then from now."
— Meryl Streep
Not all guests participated in the "wear black" movement: to name a few, German model Barbara Meier and actress Blanca Blanco decided to wear their own garments. Another guest who was not adorned in black is Meher Tatna; however, she claims that her culture calls for colorful clothing at celebrations.
Those who did participate stood out amongst the crowd as victims of sexual assault and allies who encourage and pressure fortitude against the pressing issue.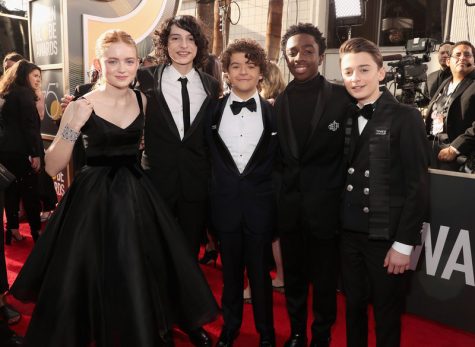 Actors and actresses both young and old contributed to the movement by wearing black and tweeting #WhyWeWearBlack and #timesup. Young actors from the newly popular Netflix series Stranger Things are pictured at the gala all wearing black.
Many different awards were distributed during the event. Famous talk show host and personality Oprah Winfrey received the Cecil B. de Mille award and delivered a speech that was returned with an uproar of applause and feedback.
Photo via Wikimedia Commons under Creative Commons license
Click here to watch Oprah's speech
Upon delivering her speech, Oprah announced that she was the first black woman to be awarded the Cecil B. de Mille award. She also brought to attention the ongoing corruption and injustice that goes on not only in the entertainment industry, but the struggle that may be present in everyday lives of American citizens and citizens of the world. Oprah encouraged that those affected by the horror of injustice and corruption such as sexual assault to come forth and speak their truth. She empowered women and those affected, "What I know for sure is that speaking your truth is the most powerful tool we all have."
Oprah also gave homage to those victims whose names and stories will go untold; she stated, "They're the women whose names we'll never know. They are domestic workers and farm workers. They are working in factories, and they work in restaurants….". She goes on to tell the story of Recy Taylor, a young black woman who was raped and then silenced with death threats by white men. However, Ms. Taylor did not stay silent. She reported her case to the NAACP, and Rosa Parks herself investigated the incident. Because of the time, Recy Taylor's assaulters were never reprimanded.
"
…..For too long, women have not been heard or believed, if they dared to speak their truth to the power of those men. But their time is up."
— Oprah Winfrey
However, times have changed. "The men who tried to destroy her were never persecuted. Recy Taylor died 10 days ago, just shy of her 98th birthday. She lived as we all have lived, too many years in a culture broken by brutally powerful men. For too long, women have not been heard or believed, if they dared to speak their truth to the power of those men. But their time is up." Oprah ends her empowering message by stating that she hopes our world is approaching a new time, one where "nobody has to say Me too again."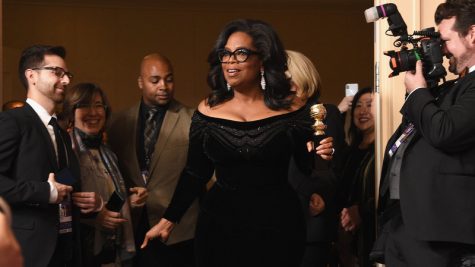 Kevork Djansezian/NBC/NBCU Photo Bank via Getty Images
Loading ...
To read more about who won the Golden Globe awards, Click Here.
To view Oprah's speech, Click Here. 
To read more about who did not participate in the wear black movement, Click Here. 
To read about stars who supported the wear black movement, Click Here.
About the Contributor
Jordan Mareck, Journalist
My name is Jordan Mareck, and I am a senior at SHS. I enjoy trying to play tennis and yelling at the refs during basketball games. This is my second and...