Jobs of SHS: Kaleb Krush
Many students of Sartell High School have jobs, and it's time for those jobs to be showcased! I will be interviewing a new student each week to share their job and the experiences they have had in the workforce.
April 12, 2018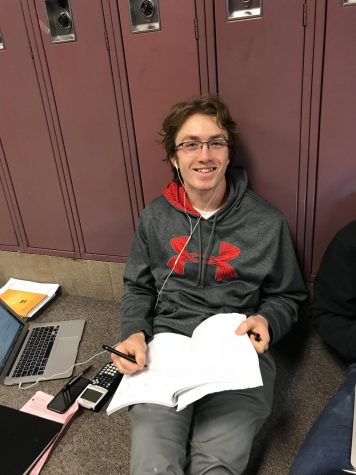 Meet SHS senior Kaleb Krush! Kaleb is currently employed at both Jimmy John's in Sartell and Coldstone in Sartell. Kaleb began working at Jimmy John's last summer 2017, around July 9th and at Coldstone approximately two months ago. In the past, Kaleb has been employed at Coborns for two years and at Pleasureland RV.
Kaleb said the craziest thing that ever happened while he was working at Jimmy John's was when the police came and arrested his co-worker on the ground. Kaleb doesn't know the details of what happened, but he hasn't seen his co-worker since.
When I asked Kaleb his favorite part about his job at Jimmy John's, he said: "I love my coworkers and have so much fun with them. They are all very interesting and come from many backgrounds, so we talk a lot." Kaleb also loves that he gets free food and discounted food while on and off the job.
I also asked Kaleb what he dislikes about his jobs and he said: "I hate when people ask for soup at Jimmy John's, because we have never sold soup and we never will sell soup."