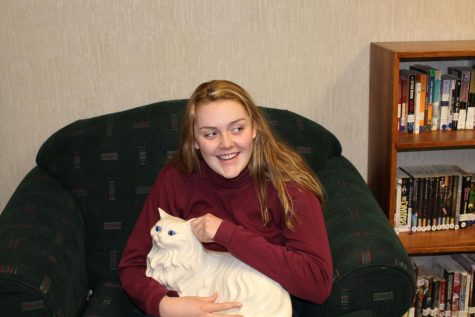 Grade: 
12
Go-to Article of Clothing:
Turtleneck
Living Room Decoration Must Haves: 
Ceramic Cat
Quote to Live By: 
"I'm sorry, if you were right, I'd agree with you." - Robin Williams
Life Soundtrack: 
The Lion King 2, Simba's Pride
Biggest Pet Peeve:
I hate it when people switch lanes without a turn signal.
Things I Do For Fun: 
I like to read, write, draw, and act. This fall, I played Antigone in our high school's production of 
Antigone. 
It was one of the most positive, genuine learning experiences I have ever had.
I'm Most Passionate About: 
I am most passionate about self-expression. I love utilizing various art forms to convey who I am. Drawing, writing, and public-speaking are some of the ways I like to do this.
Lidiah Zipp, Journalist
May 09, 2018

Looking at: The Mountain Between Us

(Story)

May 03, 2018

Sartell High School presents "Hello! My Baby"

(Story)

Apr 30, 2018

America's children are starving

(Story)

Apr 27, 2018

Sartell students make music at CLC

(Story/Media)

Apr 09, 2018

To my baby brother, Joshua,

(Story)

Mar 20, 2018

To the adults that spent their seventeen minutes commenting on WJON's Facebook page,

(Story)

Mar 15, 2018

The Sartell Mock Trial team keeps order in the court

(Story)

Mar 06, 2018

Have fun at Funfest!

(Story)

Feb 26, 2018

Looking at: All the Ugly and Wonderful Things by Bryn Greenwood

(Story/Media)

Feb 16, 2018

Looking at: The Other Einstein by Marie Benedict

(Story)

Feb 12, 2018

To the teachers that have molded me,

(Story)

Feb 07, 2018

To the little girl who taught me the R-word,

(Story/Media)

Feb 06, 2018

Sartell Singers take on Solo/Ensemble

(Story)