Our View: Phone Tracking and Social Media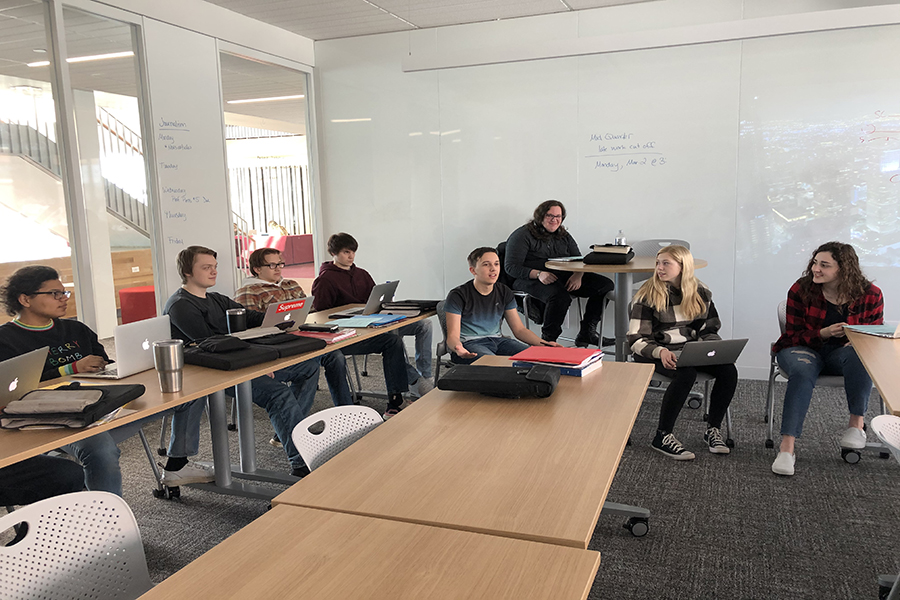 Our class recently had a discussion about invasion of privacy with our phones and social media being a giant trigger. From that conversation, we as a staff believe that it is okay for apps and companies to track people or personalize advertisements. They are going to do what they need to do to benefit their companies, as long as it is legal.
Companies that own everyday apps know where people's phones are located, whether it's for providing them with local news or coupons they may use. They can get away with being creeps by including information in the terms and services that nearly no one reads. We think that as long as they are not hiding the information from the public, it is okay. If someone decides not to read the terms and services, they are choosing to ignore the companies warnings to them.
The bigger issue in our eyes is password protection. Free apps sometimes illegally sell people's private information, and that is how those apps make their money. Even while off an app, if it is still open it can trace people's keystrokes and guess their passwords. This is far more alarming to us than knowing our phone can be tracked by each ping, because this has been known for years now.
While discussing the reasoning behind why phone companies could locate a person at any moment, we recognized our dependency on our phones. According to ZDNet, the average American spends 5.4 hours per day on their phone.  Issues that companies create for people through their phones do not compare to the problems they create for themselves through their devices. New studies from NeuroRegulation find that over-attachment to your phone can cause serious social problems – boosting feelings of loneliness and isolation – while worsening anxiety.
Depression has also increased with cell phone use, especially for teens. Social media takes most of the blame for these statistics. Constant comparisons can be very detrimental to people's mental health. Although phones are useful tools that help people manage their everyday lives, they have countless negative effects. 
Today's technology obviously creates many problems worldwide, from being scammed for money to mental health illnesses and a general weakening of social skills for young generations. The big question is how far will we let it go before we put a stop to the control our phones are having over us?
About the Contributor
Lauren Wensel, Journalist
Lauren Wensel is a junior at Sartell High School. Her favorite subject is English, and she enjoys reading and playing sports in her free time. Her current...
Our view: mental health awareness in college
Friends in college stress over midterms as we admire their social media, jealous because we're still in high school.
As a staff of all seniors, our future plans are a constant topic of conversation. But are we really ready for college? In a setting where we still have to ask permission to even go to the bathroom, are we as prepared as we could be? Do we need to be more aware of some of the issues of beginning this next phase?
We discussed some of the hardest things about college, the ugly parts, that nobody likes to talk about. Tough classes, meeting new people, living on your own; all of these things can bring new stresses that nobody seems to prepare us for. Everyone tells us how exciting it is, and how much fun it is, which it is. We should be exuberant. But we also need to know the risks.
Students risk falling into the "Red Zone," which refers to the first six weeks of college. 78% of students in 2015 suffered from anxiety or depression in those initial weeks. As classes get harder and living on your own brings homesickness into play, it can be hard for you to handle all by yourself.  Although many campuses have mental health resources and excellent counselors, the issue of pride usually gets in the way.
The issue of social media pressure also can make you hesitant to speak up. All your peers are posting photos at their college that say they're having a fantastic time, so you're assuming that they actually are. You also don't want to tell your family if you're sad because they would probably feel guilty. So we fake it.
The pressures of growing up and transitioning into adulthood can make us feel overwhelmed. Many seniors in high school experience that anxiety, and that doesn't go away as we get into college. However, having the tool of knowing the risks that college can bring, and not being embarrassed to ask for help will be what makes our college experience positive.
About the Contributor
Cami Doman, Journalist
Cami Sandra Doman, the first and only, is a senior at the best public high school in the whole world. Besides going to school, she plays hockey and softball,...
Our View
With no other motive other than to make a larger profit, they have more than doubled their prices.The CEO of Epipen has claimed no logical reason for raising prices other than, "Let's just raise rates". Epipens were expensive before, but now the prices are unbearable. Parents with multiple children with allergies are feeling the stretch in their wallets as insurance does not cover the entire price. With a lack of competition in this market, there is no repercussions for the company. This infuriates the customers who have no other choice but to pay the price or risk death. There has been a petition made with 48,000 signatures demanding that Congress enforce regulations to cause Epipen to lower their prices. This outrage has forced people to buy off brand such as Adrenaclick or try more unsafe methods like syringes.
Our class discussed the issue at hand. We agree with the public opinion that this price increase is unnecessary and outrageous. We believe that this is a huge issue. It affects so many in life or death situations. People should not have to pay a large price to have something to save them and ensure life. We also discussed that families with more than one allergy in their family have to pay double or possible triple the price.Monopolies such as this are dangerous for the public. We support the petition that has been going around, and agree that to resolve this issue. Epipen needs to stop being money hungry. In matters of human life, companies need to focus more on the well being of their customers rather than how much money they can rake in.
About the Writer
Tarah Casper, Journalist
Tarah is a senior at Sartell High School this year. Her interests include learning new things, writing, traveling, cooking, reading, calligraphy, and...
Our View: being nice is something we can all agree on
Emma Watson and Malala Yousafzai, some of the most influential women in the world today, sat down together to talk about something that effects us all: feminism. They reach a powerful conclusion where Malala identifies as a feminist.
During the very first SHS Journalism class of 2015 editorial board discussion, we not only questioned why Malala would hesitate to identify as a feminist but also what it means to be a feminist.
We explored the stigmas behind feminism and how it effects the movement.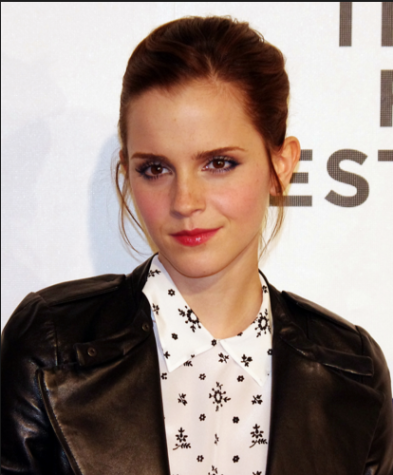 The debate over the word feminism is taken more seriously and given more attention than feminism itself and what it stands for. After careful consideration, we all concluded that feminism really boils down to human decency and one of the biggest barriers to making change is the name feminism itself. Renaming it "human equality" or just "equality" would seriously shift people's viewpoints on the issue.
Bouncing ideas and getting everyone's, especially the guys, viewpoint on feminism brought new ideas to the table and fresh perspectives and helped us come to the consensus that feminism is really just about being kind regardless of any physical attribute.
About the Contributor
Rose Rodriguez, Journalist
I bet I can guess your sign.
Our View: The Le Sabre staff on MSHSL transgender policy
Opinions differed amongst the Le Sabre staff members last Friday, in Mrs. Nelson's room. The topic was the Minnesota State High School League transgender policy dealing with locker rooms, and which activities (boy's or girl's) they should participate in. A transgender is someone who has the reproductive parts that define us as either male or female, but identify with the other gender. Over the past week MSHSL officials have debated on a new policy regarding transgender high school athletes. Although the policy was supposed to be determined last week, the committee decided to table the decision to a later date.
The Le Sabre Staff was split three ways. The debate was heated. One opinion is that those who identify as transgender should change in the locker room based on their biological parts. Gaby Hagen shares her thoughts, "It's not about feelings; it's about parts."
Another view expressed by the Le Sabre staff is that transgenders should be allowed to change in the locker rooms and participate in the sports that they identify with.
Lastly, some argued that any decision would offend one view no matter what. They argued that there was no winner in this situation.
Nevertheless, as MSHSL officials continue to debate this situation, it is sure to remain a controversial topic.
About the Writer
Jason Koopman, Journalist
An inhabitant of suburban America, Jason Koopman is a 7 time Finger Jousting World Champion. An expert in hand to hand combat, he is boldly humble, carelessly...
Our View: the LeSabre Staff on Lunches
It was heated discussion time in Mrs. Nelson's classroom, home of the LeSabre, last Friday. The topic of debate was our school lunches. The most touched on part of the whole debacle was not that OUR school lunches were too small, or that the amount of food we are getting is not enough, but that if we are getting smaller meals (or meals the same size as kindergarteners), has the obesity rate really changed?
It was unanimously stated among the journalism staff that our current lunches aren't what they used to be. We'd realized that now kids are bringing more lunches from home, to which Jake Martin stated, "If I don't have to obey the school lunch rules then, hey, I'm going to bring zebra-cakes."
But what about the kids eating at school? The portions are smaller; they're obviously eating less at school, and at home? They're more likely to go home and stuff their faces with the first thing they can find. That's where we're thinking the obesity is coming from.
It's not anyone's fault, don't get us wrong, we're not blaming anyone. We're just disappointed that the government limits to only so many calories and with such strict limitations, we can't really eat what we want to eat, or get what we need. Organic is definitely better for us, but is it that much better than our good-old Toasty Dogs? Because of how we have been raised, or been functioning, we're not used to taking the healthier option at school; ultimately, then, we end up with funky fruits or vulgar veggies, and we coin a phrase like Sam Chappell, "That's not organic, it's just old."
Another question that was dicussed is the school losing money now? If so many kids are eating cold lunch, that means less hot lunches are being bought. So, what are the benefits of this program? No money and a bigger obesity problem? We just aren't sure.
We'd come to the conclusion that because of our minimal calorie lunches, more kids are eating unhealthy snacks because they're easy and the students are just plain hungry.
About the Contributor
Courtney Strom, Reporter
I am a Sartell (obviously) Senior, a certified (iced) tea-aholic, and I enjoy reading and a good pun. When I'm not at school, reading, or drinking tea you'll...