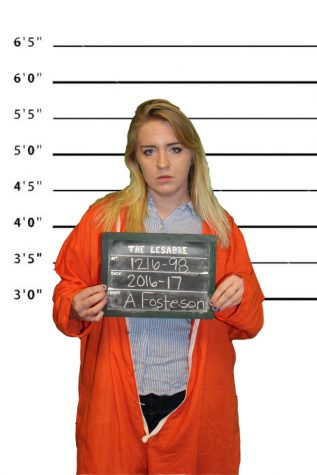 Autumn Fosteson is a senior at Sartell High School. If she isn't at school, rehearsal, or doing homework, odds are she is at home dancing to some boppin' tunes. Her hobbies include photography, regretting deleting Flappy Bird off of her phone, and pretending she knows what's going on. She thoroughly enjoys using her '79 Cannon AE-1 35mm to photograph usually nothing.
Her spirit animal is the almighty
dog
(praise be unto thee). Autumn's favorite TV shows are
Grey's Anatomy
and
Stranger Things
. She once described herself as "25% attitude, 50% coffee, and 25% dependent on her cell phone." Her red-hot sarcasm -leaving most to quake in their boots- is no match for her capacity for Piña Colada smoothies. Autumn feels that with willful restraint from cursing, and an abundance of coffee, she will be more than capable of accomplishing the task of "Journalist."
If she were to actually be arrested, it would be for stalking and abduction of an animal.
Autumn Fosteson, Journalist
Jan 19, 2017

How would you like to live in a concrete cage for the rest of your life?

(Story)

Jan 17, 2017

President Obama returns to his roots to say "Farewell" to the Nation

(Story)

Dec 13, 2016

"Show me your friends, I'll show you your future."

(Story/Photo)

Dec 22, 2016

The Truth Behind the Sweatshirt and Why Jacob Sartorius is a Liar

(Photo)

Dec 12, 2016

Matt's Movie Corner: Moana

(Photo)

Nov 18, 2016

Our view: mental health awareness in college

(Story)

Apr 25, 2016

The Evolution of Music: "Video Killed the Radio Star"

(Story)

Nov 18, 2016

TGIFF (Thank Goodness It's Flannel Friday) pt. 11

(Photo)

Nov 10, 2016

Feature Freshman 2016: Mollie Gunderson

(Story/Photo)

Nov 02, 2016

Siblings of Sartell: Austin and Amber Pietrowski

(Photo)

Oct 31, 2016

5 Halloween movies to watch this Halloween

(Story)

Oct 28, 2016

What grinds my gears: Clickbait

(Story/Video)

Oct 28, 2016

Matt's Movie Corner: Ouija: Origin of Evil

(Photo)

Oct 17, 2016

8 ways to spend your MEA weekend

(Story)

Oct 11, 2016

Trump campaign haunted by ghosts of 2005

(Story)

Sep 13, 2016
Sep 18, 2015
Sep 12, 2016
Sep 22, 2016

Sloan Schwarzentraub

(Photo)

Sep 22, 2016
Sep 22, 2016
Sep 13, 2016
Sep 14, 2016
Sep 14, 2016
Sep 15, 2016

Summer Movies 2016: The Best and the Worst and the Most Mediocre

(Photo)

Sep 12, 2016

Inspired game ends in unfortunate loss

(Story/Photo)

Jun 06, 2016

An open letter from a gender equality activist

(Story)

May 31, 2016

Killin' it with kindness here @ SHS

(Photo)

Apr 26, 2016
Apr 26, 2016

The pros, the cons, the questions

(Story)

Apr 25, 2016

Sabres Crush Cardinals

(Story/Photo)

Mar 11, 2016

"Fight me"? I'd rather not.

(Story)

Mar 11, 2016
Feb 26, 2016

Epic By Nature: The Alex Bertsch Story

(Story/Photo)

Feb 29, 2016

Confessions of a Retail Worker

(Photo)

Feb 24, 2016

Feature Artists: Side Project

(Story/Photo)

Feb 12, 2016

9 Things to Do Alone this Valentines Day

(Story)

Feb 08, 2016

Feature Artists: Callie Grosz

(Story/Photo)