'10 Things I Hate About You': fun facts about the movie
The movie Ten Things I Hate About You is a fan favorite but there are things you probably didn't know about this movie. Read below and learn about it.
Though Kat Stratford (Julia Stiles) is attractive, intelligent, and somewhat abrasive to most of her peers, she doesn't draw a lot of attention from boys. House norms state that Bianca (Larisa Oleynik), Kat's younger sister, cannot date until Kat has a lover, therefore efforts are made to put the somber damsel up for a relationship. Suddenly Kat runs into beautiful newcomer Patrick Verona (Heath Ledger). Will Kat let her guard down long enough to be seduced by the affable Patrick?
This movie actually loosely based on Shakespeare's "The Taming of the Shrew." The main plot is closely related. Bianca is not able to date until Kat acquires a boyfriend, which is similar to the play although it is more so about becoming wed and more formal. During the movie, there is a character that is obsessed with Shakespeare and brings him up often. They made an effort to closely relate the hometown of Shakespeare and where the movie takes place.
The school used in the film is Stadium High School located in Tacoma, Washington. The school was first built as a grand, chateau-style railroad station hotel but after it suffered fire damage, was renovated into a high school.
The marching band in the sequence where Heath Ledger sings to Julia Stiles was not from Stadium High School, where the film was shot. Stadium was approached by the makers of the movie to do the scene but did not have a marching band. The makers of the movie then contacted Lincoln High School, a nearby Tacoma school, which furnished the marching band depicted in the scene. Several members of the Stadium Band assisted but had to be taught how to march.
"
He knew he wasn't great, and I think that's the charm of that scene, of course, that it's bad…I think he probably went for it in that way, really not being prepared but being as goofy as he could be, running around in the bleachers doing his thing."
— Gil Junger
While trying to win Kat over, Ledger's character Patrick performs Frankie Valli's "Can't Take My Eyes Off You" in the school's stadium. 
"10 Things I Hate About You" was a launching point for actors Julia Stiles, Heath Ledger, Joseph Gordon-Levitt, and Gabrielle Union. The table dance scene is what led to Julia Stiles landing the leading role in Save the Last Dance (2001). Cameron James (Joseph Gorden-Levitt) learns French so he can tutor Bianca, but in real life, Levitt speaks French already.
At the end of "10 Things I Hate About You," Kat cries while reading a poem she wrote about Patrick for English class. These tears were totally unplanned and the scene only took one take. In an interview with Cosmopolitan, Stiles confirmed that they were in fact not.
Overall, every cast member voices their opinion on the shooting of the movie in all. Many say that it was a very special experience to be able to perform with great people. They may not like the movie now, but it helped start their careers, and it was a hit movie for teenagers all over.
About the Contributor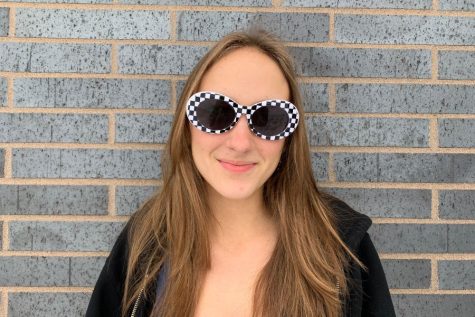 Kaylee Hildebrand, Journalist
Grade: Junior

Hobbies: Shopping, listening to music, and driving around

Best place to eat: Olive Garden

Best shoes: Reeboks

Favorite movie: 10...