Trying new foods: Japanese pan noodles
Today I went to Noodles and Company to give my friend a grad party invitation and decided I wanted Japanese pan noodles, but my mom and I both agreed that we did not want to spend money on take out. Instead we went to Coborns so that I could try to make it myself.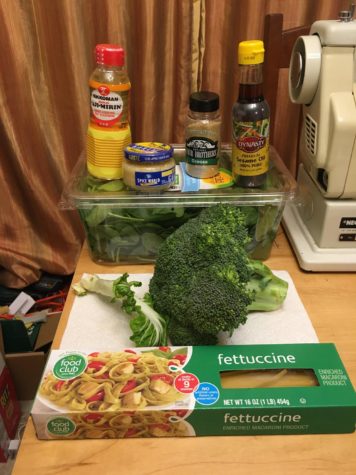 It was late when we got to the grocery store, so if we did not find an ingredient we were going to improvise. I found a recipe online that called for udon noodles, sesame oil,  broccoli, bell peppers, carrots, zucchini, soy sauce, mirin (Japanese sweet wine), chili garlic sauce, and minced ginger. I took the sauces, seasonings, and chose some vegetables from this recipe to put into my dish, but I also added some of my own vegetables.
For ten ounces of noodles they gave ½ teaspoons of sesame oil, 2 tablespoons of soy sauce, and 2 tablespoons of mirin, however the recipe also said to taste for each one. With my two boxes of noodles equalling 32 ounces, I tripled the amount for each of them at first but then added more once I had them in the pan because it did not look like there was enough sauce. After adding more than I intended when I started, there was still not enough sauce and vegetables for the two boxes of noodles that I cooked when I finished, so I ended up putting the sauce on only half of the noodles, which equals one box.
Onto the recipe that I ended up creating myself with the guidelines from the recipe I googled, along with the mistakes I made: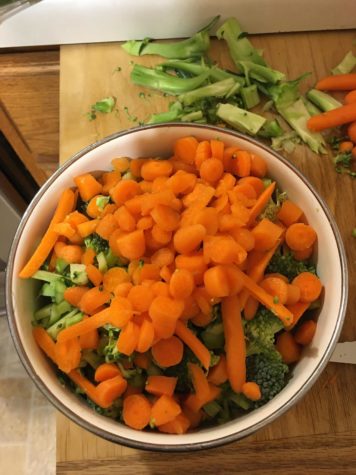 32 ounces of noodles
1 head and stem of broccoli
1 bag of baby carrots
1 good handful of spinach
4-5 stems of celery
½ a small head of savoy cabbage
 2-3 teaspoons of sesame oil
8 tablespoons of soy suace
8 tablespoons mirin (Japanese sweet wine)
2 tablespoons minced garlic or 2-3 tablespoons garlic chili sauce
2-3 tablespoons ginger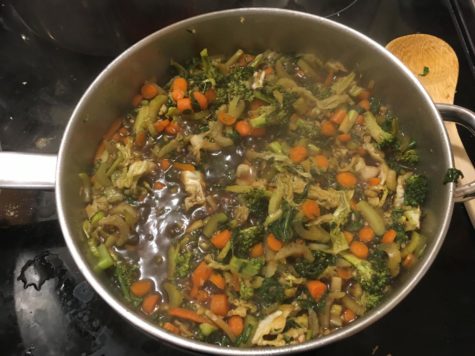 I started by boiling some water. After it was boiling and I got the noodles in, I started chopping vegetables. Trying to chop the vegetables in a timely manner was the hardest part for me because I don't do it often. I put a pan on the stove and put all of my sauces in it, including the ginger spice powder so that it would mix easier, before the vegetables. I did not wait for the sauce to heat up before I put the vegetables in, but I did have the stove on from the moment I put the first sauce in the pan. I put the pan on at medium to low heat. Then it was time for the vegetables. I put them in the pan and mixed them around, and then I let them saute in the pan with a lid on so that the vegetables would get softer. Once the vegetables were to my liking I took half of the noodles I made and put them into a bigger bowl so that I could then mix in the sauce and vegetables. After the vegetable and sauce were mixed in with the noodles I let them sit for a couple of minutes so that the sauce may thicken, stirring them throughout the time I let them sit. The Japanese pan noodles were finally ready!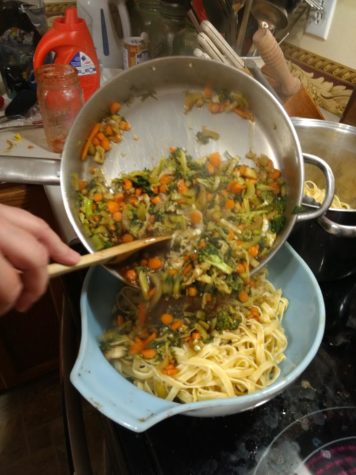 They tasted good, but a little bland. When I make this dish in the future I will be adding the garlic and chili sauce instead of just minced garlic, and I will probably add more ginger and sesame oil. Although I am going to change how I make it in the future, the outcome on my first try was still really good. The vegetables that I added were exactly how I thought they would be, except for being slightly under seasoned as I previously stated. They were not crunchy but not mushy, so just how I like it. 
I recommend to anyone who hasn't tried Japanese pan noodles to give them a chance by making them at home. It will give the opportunity to try something new while adding the ingredients to their taste and liking. Not only that, but then they can make as much as they want, so saving some for later is an option, along with eating them all at once.
About the Contributor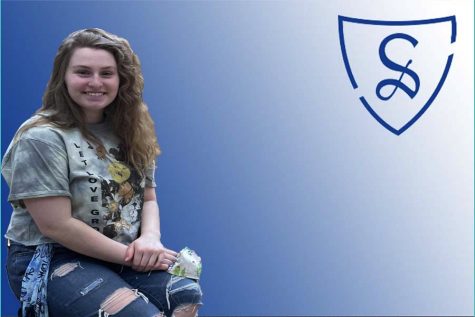 Christina Binder, Journalist
Grade: 12

Hobbies: I like gymnastics, theater, choir, and art.

Where I'll be in 10 years: I want to sell my art and live in an old victorian home.

Favorite...