Mask mandate is officially over; skeptics arise
Over the weekend, Minnesota residents were flaunting their new normal as the mask mandate, requiring masks in all indoor spaces and outdoor spaces of over 500 people gathering, came to an end on Friday the 14th. Many are very pleased about this, and of course many are also very worried about what this could mean for the spread of Covid. A detailed explanation of the order signed by Gov. Tim Walz can be found here. 
It has become abundantly clear that people are tired of the masks. At all areas of life, you see people expressing their distaste in the mask mandate that ruled for as long as it did. Students are being reminded four to five times a class, customers have been caught creating a scene in stores, and high-school and college athletes wear them below their chin. You wonder at some point if the masks are doing any good if they are rested under infected nostrils or used as a mere chinstrap. If you know people won't wear it, what is the point of the mandate?
While in the Twin Cities this weekend, I noticed a whole new look on most people. One of the areas of society impacted by this are stores and gas stations. Places like Target, Walmart, Kwik Trip, and many more have welcomed back maskless shoppers with open arms. These businesses and corporations have also allowed for vaccinated employees to take their masks off as well. Considering the recent updates in the Covid numbers over the last few weeks, the spread should be over once and for all. Minnesota has not yet reached its 70% vaccination goal, yet Walz stated that the rate is high enough and many people under 16 are vaccinated and not a part of the current 61% of people who are used in the study.  These businesses have made it clear that they will let the consumer decide what they want to use to protect themselves.
Other places like schools, hospitals, etc… have decided to keep masks. Although science says that masks are not any longer needed for general protection purposes, these places do not intend on changing. Of course, hospitals will probably require masks for a long time, and employees will always be wearing one regardless of the state of the world. Schools are still demanding that students wear masks. While some schools are far more lenient than others, all schools are still "requiring" that masks are worn. Their excuse is that the CDC did not give detailed guidelines as to what school should look like, but the CDC did not have to. The rule is supposed to be that masks are no longer required, and that extends to all walks of society.
"
You can go without masks wherever you want to go."
— Minnesota Gov. Tim Walz
Not to only mention how this order affects citizens and customers, I decided to collect the perspective of somebody on the other side of the table. I stopped at a local Kwik Trip on the way back into St. Cloud. Kwik Trip is one of many places to approve of unmasked shoppers AND employees. An endured employee named Alexis and I had a brief conversation on what it feels like to free the faces of their friends and customers.
"It is great to be able to see smiles and emotions of the people that you are talking to," said Alexis. "When you are wearing a mask it is hard to tell if a customer is confused or happy or upset, and I am sure they had that same problem with us as employees."
I also asked if she felt any anxiety or nervousness about the new normal. "I do to an extent, I worry for people who feel uncomfortable themselves. It is not an anti-mask order though, it's a freedom order. You are definitely welcome to wear a mask if you want to, but now people are finally able to have a choice again."
Clearly, the employees are excited to have an old freedom within their reach once again.
To see a timeline of the mask mandate, executive orders, and social guidelines that have taken place over the course of the pandemic, consult the timeline below:
About the Contributor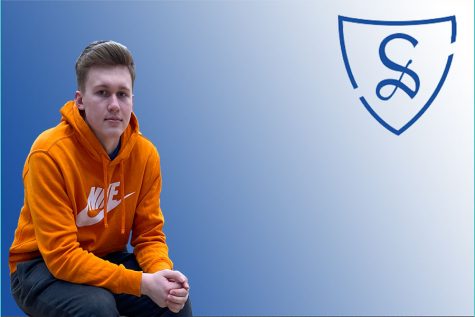 Scout Thorstenson, Journalist
Grade: Senior

Hobbies: I play basketball very often. I also love to spend free time at various thrift stores around St. Cloud.

Where I will be in...