Good VIBES right around the corner!
If you're a citizen of Sartell or just stopping by, you've most likely seen Sartell Vibe either on social media or in someone's hand walking down the street.
Sartell Vibe was started back in 2019, and it was a big hit right away. It's good for you. It tastes good.  It's the perfect start to your day. There's always something new to try at Vibe and that's what makes it different from other Herbalife places.
Sonia Nordmann, the owner of Sartell Vibe is always very welcoming and always trying to persuade people to try new things.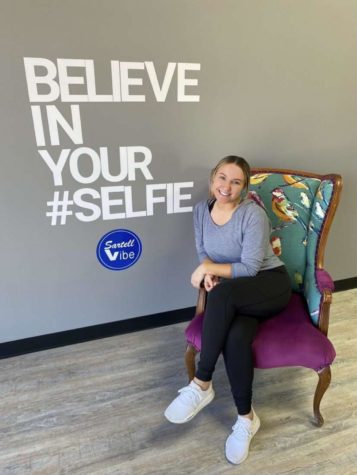 Hannah Wolff has been employed at Sartell Vibe since the beginning.  She is pretty passionate about what they are doing there.  She was able to sit down with the LeSabre staff to give us some insight into why she loves it.
What's your favorite part of working with Sartell Vibe?
I love the community that Sartell Vibe has. We have our own little family, not only the coaches and me, but all of the people who come in. There are people who come every single day just to visit us, and we actually miss them when we don't see them for a while.
What's your favorite drink to order?
"
I love seeing new people and recommending new drinks!"
— Hannah Wolff
I'm addicted to the Dole whip shake, and I love the Sabre tea
How would you describe the environment at Sartell vibe?
Sartell Vibe is super inviting and fun to be at. We love having people come and hang out and talk with us for hours. 
Would you say that you've become more involved with the community since you started working at Sartell vibe? 
I have definitely become more involved with the community! Not only do I get to help people get healthy through our program, but we get to do fundraisers all the time and those are our favorite days to work!
About the Photographer
Sydnney Mueller, Journalist
Grade: Junior

Hobbies: Hanging with friends, working, driving around

Where I'll be in 10 years: Hopefully in Colorado as a vet tech

Dream job:...