Make this delicious Mahi Mahi recipe
This Mahi Mahi is so delicious and easy to make! It's simple but makes for a simply delicious meal.
Mahi Mahi is a warm water fish and is typically caught in the Atlantic ocean. They display bright vivacious colors and are also known as dolphinfish. While it has more of a firm flesh it has a very mild flavor and can be cooked in several different fashions. This is personally one of my favorite fish for its mild flavor and white flakey flesh. After experiencing the best fish tacos I've ever had at a restaurant in Grand Forks ND, I have been in love with Mahi Mahi. While I do like it cooked several ways, I prefer and recommend it blackened. I buy a frozen bag of Mahi Mahi from Sam's club and thaw it the day before I plan on cooking it. I tried this seasoning mixture for the first time and loved it! I served it over white rice and served an avocado mango salsa of my own making over it. It was well received from my family and I would definitely make it again!
Prep time: 10 mins
Cook time: 8 mins
Total time: 18 mins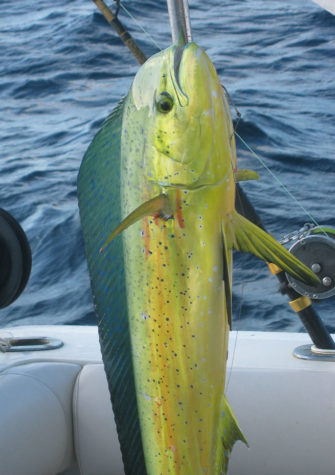 Servings: 4
Calories: 268 kcal
1 teaspoon garlic powder

1 teaspoon smoked paprika

1 teaspoon dried thyme leaves

1 teaspoon dried oregano leaves

1 teaspoon fine grain sea salt

1/2 teaspoon freshly ground black pepper

1/2 teaspoon cayenne pepper

1 1/2 teaspoons onion powder
Directions: 
Pat filets dry (makes about 4 filets)

Coat filets with seasoning to your liking, and gently rub seasoning into the filet

Add two tablespoons of butter to a large pan along with a tablespoon of olive oil on medium to high heat

When the fat is hot carefully add filets to the pan

Let cook undisturbed for 3-4 minutes or until golden brown then flip

Filets are done when they are golden brown on the outside and white and flakey on the inside
Calories: 268kcal | Carbohydrates: 4g | Protein: 38g | Fat: 11g | Saturated Fat: 5g | Cholesterol: 164mg | Sodium: 540mg | Fiber: 1g | Sugar: 1g
Avocado Mango Salsa:
1 whole avocado
Mahi Mahi filets can be found fresh or frozen at your local grocery stores. (kirkland.com)
1 whole mango
½  large tomato
¼  purple onion (or to your liking)
1 tsp salt
½ lime juice
Directions:
Cut up the avocado, mango, tomato, and onion and combine in a bowl

Add in salt and lime juice

Top the salsa on the fish
About the Contributor
Hannah Lalim, Journalist
Grade: Senior

Hobbies: I am on the dance team! I love hiking, kayaking, and spending time on the lake. I also love watching and cheering on my favorite...