Sliding into the Twins Hall of Fame
Justin Morneau, former Twins baseball player, is going to be inducted into the hall of fame on May 23rd at Target Field as the Twins 34th member to the Twins Hall of Fame. Many believed that it was a matter of when, not if, Morneau would get into the Hall of Fame.
Morneau has a rich history with his baseball career. In 1999 Morneau was drafted into the Twins team as a catcher but quickly moved to first base after suffering an arm injury, making his debut with the Twins in 2003. He spent 10 years with the Twins before being traded to the Pittsburg Pirates in 2013. He then spent 2 years with the Colorado Rockies from 2014-2015 before retiring with the Chicago White Socks in 2016.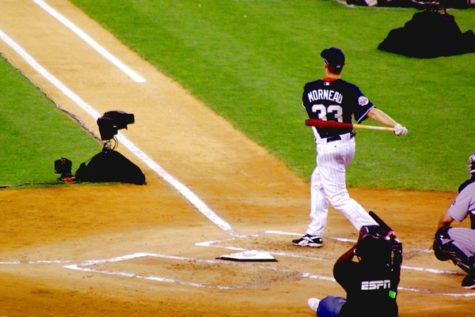 Morneau has accumulated many stats throughout his career. In his 1278 games Morneau hit an average of .278 with 289 doubles, 221 home runs, and 860 Runs Batted In (RBI's) with his 221 home runs being 3rd in the Twins all time list. He overall ranks 2nd in Twins history as a first baseman. In 2006 he was Most Valuable Player (MVP), He was an all star player in the years 2007,2008,2009, and in 2010.
From the moment Morneau came out on the field, he had always been a fan favorite not just for his friendship with famous Twins catcher Joe Mauer but also for his connection with the Minnesota community. After retiring he has since become co commentator with Dick Bremmer for the Minnesota Twins. He was voted into the Hall of Fame with an almost unanimous vote of 70 out of 71. 
"
I think this is the ultimate honor for a player."
— Justin Morneau, on being inducted
About the Contributor
Josiah Wolters, Journalist
Grade: Senior

Hobbies: Reading, Dungeons and Dragons, Video games, and writing short stories

Where will I be in 10 years: In 10 years from now I...