NYC plans complete reopening in July
Recently, Mayor Bill de Blasio of New York City stated that the city aims to remove all Covid restrictions and have a full comeback reopening starting July 1st which promises the ability for full capacity for restaurants and bars, stores, shops and small businesses, hair salons and barbershops, gyms and fitness classes, arenas, stadiums, music halls, museums and theaters. So what does this mean for New York and for other states with Covid?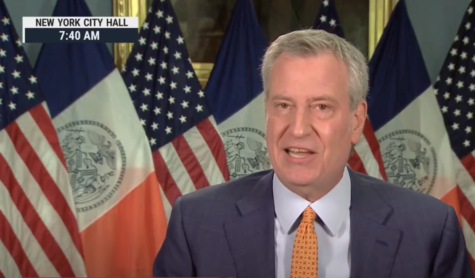 De Blasio didn't go into too much detail about how the city was going to attain their reopening goal, and also which Covid restrictions would have to stay in place exactly, but as of right now with this plan he motioned that the "basics" would still be in play for some time, such as wearing masks and washing hands. The entirety of this goal, however, lies within the hands of the legislature and governor Andrew Cuomo, people to which De Blasio still hasn't run the entire plan by yet. The scenario still seems plausible though, due to the fact that the governor had recently announced further plans to lift some restrictions himself, giving the reopening a fleeting chance to make its beginning deadline in July. De Blasio also did state that he does plan to work with the government to make all hopes of the city's goal a reality by saying that, "I think the best way to proceed here is to set out the city's vision. We're going to work with the federal government, we're going to work with the state government, but it's quite clear it's time to set a goal and move on that goal." 
The mayor also marketed his plan by providing possibilities for summer activities to resume like normal around New York City and potentially New York as a whole. Broadway, which was not set to reopen until September, already has the potential to begin shows again within the summer, along with other important attractions such as the Pride and Puerto Rican Day parades, if the plan is passed in time.
"
This is going to be the summer of New York City. You're going to see amazing activities, cultural activities coming back. I think people are going to flock to New York City because they want to live again."
— Mayor Bill De Blasio
De Blasio also has a plan to try and vaccinate 5 million New York City residents by the end of June in order to help out the probability for July 1st. Last week, he opened up all city-run sites to walk-ins to anyone eligible. The mayor did acknowledge the hesitancy coming along with the vaccine for some people, but continues to push for people to receive it in order to get the most out of New York City as soon as possible, to which he says he is "quite confident we'll be ready for full strength by July 1."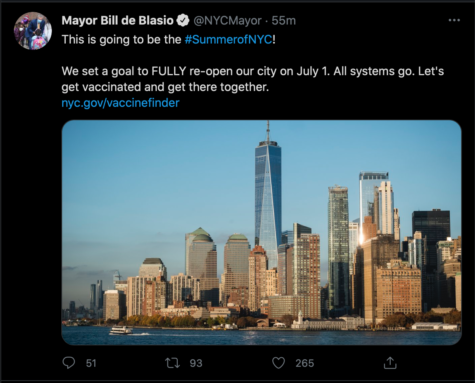 This push for normalcy again has a great impact on other states who wish to reopen as well, such as California, to which government officials there have already stated their plans to reopen even earlier than New York City in June due
to lowering Covid cases and increasing amounts of vaccinations taking place. Minnesota within itself is beginning to see some rollbacks on restrictions since beginning a Covid marathon over a year ago, but at a much slower rate than other states have experienced.
Each week from this point has been noted by the governor of New York and the mayor of NYC to be relaxing more and more restrictions slowly. The Big Apple might just be the place to visit this summer if July holds true to the city's plans and vaccination numbers continue to increase with cases decreasing.
Youtube, MSNBC
About the Contributor
Ashley Johnson, Journalist
This year is Ashley Johnson's ('21) first year writing for LeSabre and last year at Sartell High School. Her favorite things to write about are opinion...