U.S. commits to slashing emissions in half
As part of America's new commitment to the 2015 Paris Climate Accords, President Joe Biden announced his pledge to cut U.S. emissions in half over the next 10 years. 
The president made the commitment during a two-day virtual meeting of world leaders on the climate crisis. 
Biden's pledge reverses the decision of the previous president, Donald Trump, who withdrew the U.S. from the global agreement. 
"These steps will set America on a path of net-zero emissions economy by no later than 2050," the president said. "But the truth is, America represents less than 50 percent of the world's emissions. No nation can solve this crisis on our own, as I know you all fully understand."
Scientists emphasize that the next decade will be pivotal in addressing the climate crisis. 
U.S. emissions plummeted last year, although that was due to travel and economic restrictions put in place by the pandemic rather than a change in policy. As the pandemic wanes, emissions are once again expected to return to their pre-pandemic levels, and the Biden administration is scrambling to find ways to hit the more ambitious goals proposed to mitigate the worst consequences of global warming.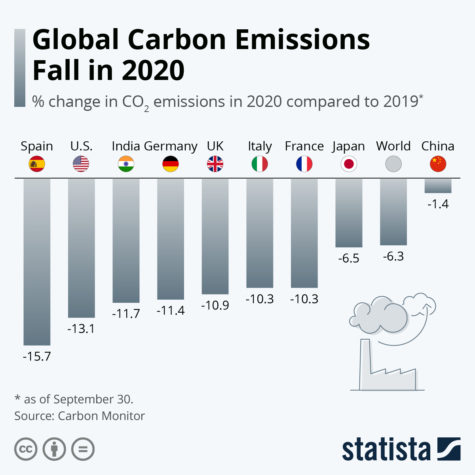 This is currently the largest emissions reduction goal the U.S. government has ever had. Though the pledge of 50-52% is still likely to face scrutiny from environmentalists.
Countries such as the U.K. have proposed a 68% reduction in emissions during the same time frame and an incredible 78% reduction by 2035. 
The U.S. is pressing other large greenhouse gas emitters to make equally substantial cuts. However, following the United State's rocky history with climate legislation, they are waiting to see if America will back its words with meaningful actions.
About the Contributor
Luka Alexenko, Journalist
Grade: Senior

Hobbies: Collecting records and feeding a burgeoning bubble tea addiction.

Where I'll Be In 10 Years: 29 and in a lot of student debt.

Current...