Feature Freshman of the Week
The rookies of the year are here. One of the biggest problems I faced when I first entered high school was the transition of originally being the big fish in a small pond to being the little fish in the high school. Freshman seem to be looked down upon like it is their fault that they have no idea how the high school halls work. BUT, nonetheless, they are still people trying to find an identity. This is why I have decided to highlight these freshman and show them to the high school. So, let's meet the newbies!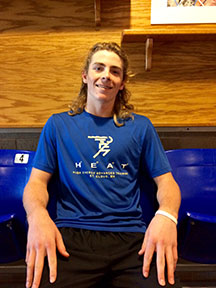 Hang on for a minute...we're trying to find some more stories you might like.
This week I sat down with Jack Henneman, freshman hockey prodigy, who declared he is D1 Bound.
Jack is the oldest in the family, he has a little sister who is a 7th grader at Sartell Middle School. Jack enjoys playing hockey, baseball, and golf. He plans to play varsity hockey for "the best coach in the CLC," Ryan Hacker. Jack admires coach Hacker and is very excited to show off his skills and talents. Jack had a very good season last year as he finished by scoring 50 offensive points.
Jack enjoys the freedom and the time he gets to finish homework in his classes. He is doing very well. "It helps knowing upperclassmen and other older high schoolers," explained Jack when asked about how the transition is going for him. Jack's least favorite part of the high school is the hectic and traffic jammed hallways in between classes. "It's pretty busy; it's pretty packed wall to wall  You get pushed around quite a lot."
If you see this man in the hallways tell him hello and know this man is Jack Henneman.