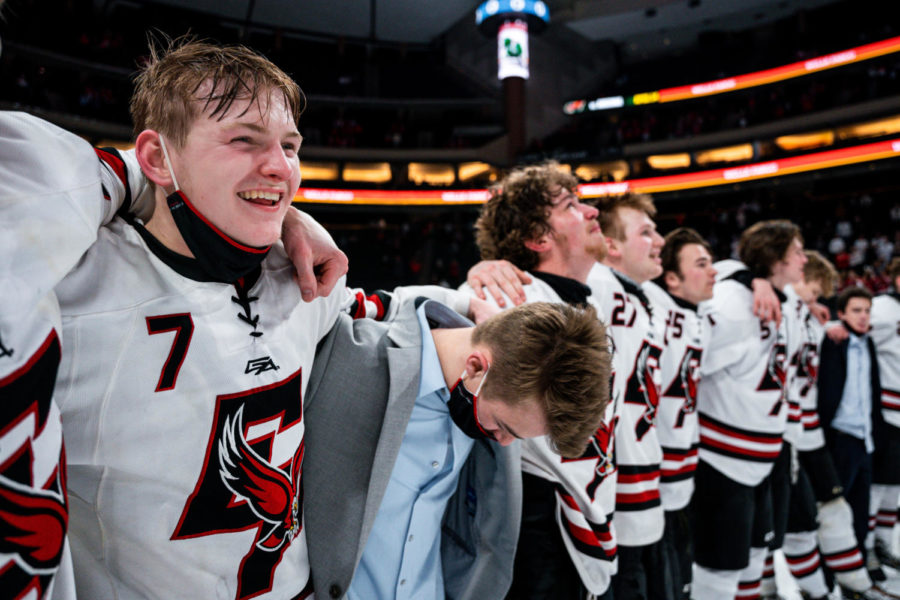 Luke Schmidt
Minnesota high school hockey teams gather at the Xcel energy center (The X) on Tuesday, March 30th- Saturday, April 3rd, to fight for a state title.
Number two seed Gentry Academy (16-0-0), defeated unseeded Dodge County (17-3-1) 8-1 in the A boys hockey final. Gentry Academy made their first appearance in the boys tournament and managed to take home a state title. Number one seed Hermantown (19-1-0), who was undefeated prior to the tournament, including a victory against AA Duluth East, was this year's returning fan favorite, before Covid quarantined the Varsity team.
Hermantown was exposed by an opposing team; anyone who skated a shift on the ice was held from playing at the "X". That included top senior defenseman, Mr. Hockey finalist, and UMD commit Joey Pierce. They then looked to 15 JV players, who have not played since March, and 3 injured Varsity players. Including Zam Plante, who is ranked 6th in the state, ending with 61 points this season. He separated his shoulder in the game against Duluth East and decided to come out of injury for the state tournament. While the Varsity players were absolutely devastated, they had faith in and supported the JV players, who cancelled spring break vacations and flew back from vacations early to fill the roster in the absence of the Varsity team. Hermantown played hard, making their team and hometown proud, they lost to Dodge County 7-3. 
While Hermantown didn't come out victorious in the boys tournament, the number three seed, Hermantown- Proctor girls (18-0-0) won a state title over number one seed Gentry Academy (17-2-0). Hermantown Won in double overtime 3-2, taking home the A Minnesota high school hockey girls state title.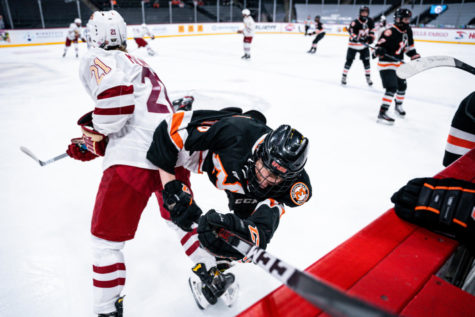 The AA boys final Between number one seed Eden Prairie (18-1-2) and number three seed Lakeville South (18-0-2), also had the audience at the edge of their seats with an overtime finish. Eden Prairie took home the AA Minnesota boys high school hockey tournament title beating Lakeville South 2-1 in overtime. However, "A" was not the only tournament with a notable absence. 
Number two seed Hill-Murray (18-2-0), was scheduled to come off of a quarantine the day after their state tournament game against Wayzata. Nine players on Hill-Murray's Varsity team filed a lawsuit, hoping for a temporary restraining order to move their scheduled game to Thursday so their varsity team could participate. Wayzata graciously agreed to play the game on Thursday opposed to Wednesday and no scheduling conflicts presented themselves. However, the Minnesota State High School League denied the request to move the game to Thursday. The seniors on Hill-Murray will never again have the opportunity to play for their school as Wayzata advanced in the state tournament. 
Number two seed Edina (19-0-0) beat number one seed Andover (20-0-0) for the AA girls Minnesota high school state title. The game ended in regulation with Edina on top 2-1.
The Herb Brooks award was given to four participants in the boys and girls tournament to recognize those who represent values, characteristics, and traits that reflect and honor Herb Brooks. The A boys award was given to Landon Parker of East Grand Forks. He is described as a leader on and off ice, number 1 in his class with a 4.0 GPA, a volunteer in church youth group, and he helps local elderly with yard work and snow. The AA boys recipient was Cade Ahrenholz from Lakeville South. He is a passionate player who gives back to the community in the summer on the rinks and is a role model for his teammates and younger players. He will play Division I hockey at Colorado College. Rory Guilday was selected as the AA girls recipient from Minnetonka. She showed her resilience and love for hockey while fighting through a brain tumor that caused her to partially lose her eyesight. She went on to earn a spot in the U18 women's national team and will play Division I hockey at Cornell University. Abbey Hardwick was selected as the A girls award winner from Warroad. Abbey is a leader on her team and in the classroom. She is student council president, coaches junior golf, is a religious instructor, and does additional volunteering. All of these deserving athletes will receive a $1,000 scholarship for their outstanding achievements and character.   
Among many other traditions that withstood Covid during the Minnesota high school hockey tournament, one of the most widely known is the hockey hair video. The video contained hair of all sorts that featured Minnesota hockey players.