Emerson Dyer
Little Falls hosted the Section Semi-finals at the Exchange Arena on Tuesday, March 23rd to determine who would play the winner of Alexandria and Fergus Falls to progress to the State Tournament.
Sartell went into tonight's game with a win-loss record of 11-7. They recorded two notable wins after beating St. Cloud Cathedral, who were previous state qualifiers, 8-1. While hockey is a team effort, Sartell has a few key players to watch for. Point leader, Michael Webster, has notched 9 goals and 19 assists to make up a leading 28 points. Hayden Walters and Tory Lund are also key contributors as they earn a combined 52 points. Lacen VanDenBurg has also stepped up this season as a breakout player with 23 points. Starting goalie, Quentin Sigurdson, has proved himself to be a brick wall this season with five shutouts and recorded a 92.9% save percentage.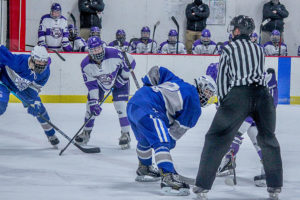 Little Falls has had a defining season going into the section semifinals with a record of 11-4-1. Key players taking the ice for Little Falls include Nicholas Stevens with 31 points, Hayden Johnson with 29 points, and Matt Filippi with 25 points. In net for the Flyers is Dane Couture who recorded three shutouts this season with a 91.6% save percentage.
In the previous regular season game between Sartell and Little Falls, Sartell fell to Little Falls with a final score of 1-3. Sartell opened up the first period with the lone goal from Hayden Walters assisted by Thomas Franke and Michael Webster. Little Falls tied up the game with a goal in the second period and sealed the win with two goals in the third period. The Sabres continued to develop throughout the season in preparation for a battle against Little Falls in the postseason. 
Sartell senior, Will Yu, gives insight on his mindset going into the high stakes game, 
Tonight's game is not the only time the Sabres have had to be relentless this season. The boys' team had missed three games in late January that extended into February, due to a Covid exposure from an opposing team. The team showed their resilience as they attended zoom practices for two weeks. They worked hard in their return to in-person practice and are excited for the semi-final game. 
Head coach, Ryan Hacker, speaks openly about how he feels going into tonight's game, "The boys are excited and ready to go, it should be a competitive game."
According to Coach Hacker, the key to playing a successful game against Little Falls will be to "stand up against their physicality, neutralize their top guys, and put the puck in the net."
The game left no physicality to be desired as hits were frequent and hard, however the same can not be said for goals in the first period. Fans anxiously awaited for their respected teams to be the first to find the back of the net, both teams came up empty-handed.
The first period was well matched as the Sabres put on a fun and entertaining first period. Little Falls was first on the board with a power play goal in the second period, scored by Nicholas Stevens and assisted by Gunnar Gustafson and Matt Filippi. The Sabres wasted no time matching the goal as Josh Kern scored at even strength with an assist from Connor Hacker and Lacen VanDenBerg. As the game was well matched so were the goals. Little Falls bounced back quickly with a goal from Carter Oothoudt assisted by Jake Czakowski.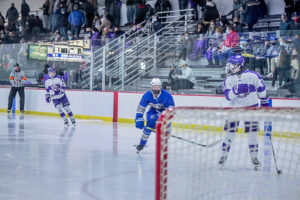 The players kept their emotions in check as the second period only contained two penalties against Little Falls. Emotions ran high in the third period with a plethora of penalties for both teams. With strong emotions came hard hits, like the one that the admired senior captain, Michael Webster, received. Sartell fans were heartbroken to see him walk off the ice with a bad ankle injury to be assessed. Little Falls secured their spot in the section finals with an empty net goal at the end of the third period. The Sabre fans stood proudly in support of their players who played hard for three periods as they exited the ice for their final game in the 2020-2021 season. 
For 7 of those players that was the last time they will step on the ice in a Sartell Sabres sweater.
The 7 seniors that filled the roster lead their team by example with their hardwork and dedication, junior Zach Pekula speaks to just that, "There are a lot of leaders to look up to and I admire their work ethic."