Out with the old and in with the new at Burger King
We all have cravings for fast food every now and then. So if you're ever driving, walking, or biking by Burger King on Pine Cone Road, you should try their new Hand-Breaded Chicken Sandwich or their new 8 piece Cheesy Tots.
I work at Burger King and I recently had the pleasure of reviewing and making the sandwich before it gets released to the public. Now I'm not going to be biased, but it was a fun experience making and trying it. Burger King also has some new sauces on the Hand-Breaded Chicken Sandwich, which are the new Savory or Spicy choices. There are two different kinds of sandwiches you can get, the Classic, which is only with the savory or spicy sauce, and Burger King's new deli pickles, or the Lettuce and Tomato Hand-Breaded Chicken Sandwich, which has either of the sauces, lettuce, and tomato. The Hand-Breaded Chicken sandwich also has these new brioche buns, which add a nice sweet taste to the sandwich.
So again, I had the pleasure of learning how to make these sandwiches, and let me tell you, it's a process. I'm not going to give away all of Burger King's secrets but we make sure that everything is cooked and prepared properly. We always wear gloves when preparing food and wash our hands after touching raw meat.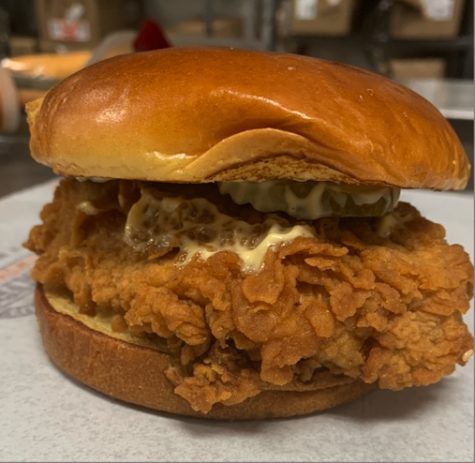 As I mentioned earlier, we also have new Cheesy Tots as well, which only comes in an 8 piece. These are great to eat with anything at Burger King; for example, the new Hand-Breaded Chicken sandwich. Cheesy Tots are like tater tots but with some cheese in the middle of them. These go well with some ranch or zesty sauce but they are great plain too.
Just to let everyone know, our dining room is now open from 7 am-7 pm every day. So out with the old, which were the old Crispy Sandwiches, and in with the new of the Hand-Breaded Chicken Sandwich.
About the Contributor
Jordan Laws, Journalist
Grade: Senior

Hobbies: Makeup, Skincare, Painting, Drawing

Where I will be in 10 Years:  Hopefully owning a salon, and married

Dream Job: Aesthetician,...