Trying the Starbucks secret menu WandaVision drinks
The new hit series on Disney+ has sparked many creative fans to make some specialty drinks at Starbucks to show their appreciation for the show.
The last episode of WandaVision aired Friday, March 5th, and fans have been in a tizzy since the season finale trying to make sense of it all. You can check out all the theories in a spoiler-heavy article by fellow journalist Abby Peichel here.
Since my friends and I have been obsessed with the show, we knew we had to try these new drinks. After seeing people try them on Tik Tok we looked up the way to order them and made our way to Starbucks. We got two drinks: The WandaVision frappé and the Agatha All Along refresher.
How to order the WandaVision frappé: 
Any size Matcha Green Tea frappuccino (we went with a small)
Strawberry drizzle on top (not blended) with whipped cream
Strawberry purée on the bottom
Matcha powder on top
How to Order the Agatha All Along refresher: 
Any size Mango Dragonfruit Refresher (we went with a small but a larger size would be better)
No water instead ask for heavy cream
Light ice or no ice
2 scoops of dragonfruit
1 scoop of kiwi
1 pump pineapple ginger syrup (2 pumps if you get a bigger size)
Vanilla Sweet Cream cold foam on top
If you want to know how to order this drink through the Starbucks app, check out the creator's Tik Tok showing you how to order it below.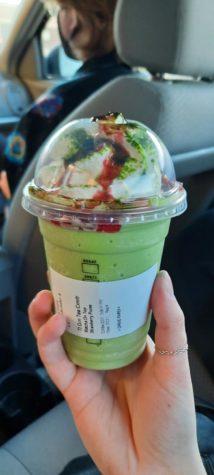 Out of the two drinks, the Agatha All Along refresher was the favorite. It was very refreshing and bursting with fruity flavors. The cream may seem weird, but it made the drink really creamy and helped mellow out the strong fruit flavors.
It tasted, as Senior Erich Dvorak would put it "-like a creamy fruit salad."
It was powerful and delicious and weird all at the same time just like Agatha Harkness from the show. I would 100% recommend it.
The WandaVision drink is also very powerful, but if you don't like matcha this drink is not for you. The matcha was a little overpowering and the frappé was super sweet. If I were to get the drink again I would ask for more strawberry purée because when the matcha and strawberry mixed the drink was otherworldly. Overall, the drink was good but I preferred the Agatha All Along one.
All episodes of WandaVision are available to watch on Disney+. The show chronicles the altered reality the superpowered Wanda Maximoff (Scarlett Witch) has created for herself. It narrates her inner turmoil in a fun and quirky way by bringing back her love interest and fellow superhero Vision and introduces their two children, twins Billy and Tommy Maximoff, in the style of classic sitcoms.
We hope to see more from Wanda and her incredible powers in Doctor Strange in the Multiverse of Madness movie set to release in 2022.
About the Contributor
Charlie Monson, Journalist
Grade: Senior

Hobbies: Watching movies, playing video games, doing art, listening to music, and hanging out with friends

Favorite band/singer: Arctic...