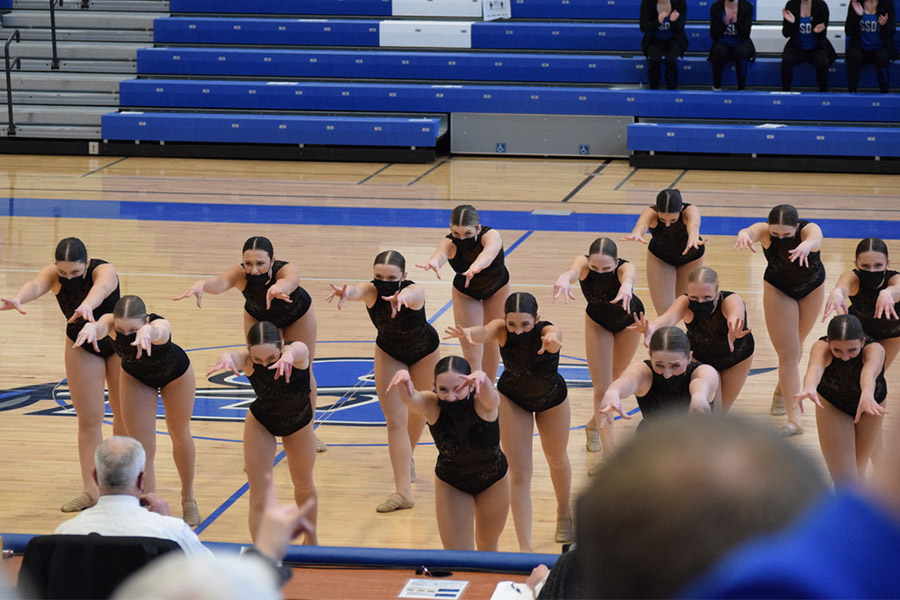 Honora Moore
On Saturday February 27th, three local teams competed at Sartell High School and solidified their spot at the 2021 State Dance Team Tournament.
This season has been uncertain, but nevertheless, these deserving dancers received their chance at progressing to the State Tournament. Teams all around Minnesota competed at their sections meet and now 12 teams from each class will meet to face each other one last time at Edina High School on March 12th and 13th.
The Section 4AA meet was held at Sartell High School. There were 4 heats with 3 teams in each heat. One heat had 4 teams, making a total of 13 teams in the 4AA section. Cathedral and ROCORI danced together heat 3 with Alexandria dancing in between them. Sartell danced with Becker and Detroit Lakes in the final heat.
During my interview with senior, Hannah Lalim, I asked her how it feels to progress to the State Tournament for the last time/fourth time.
Due to restrictions on the number of people allowed in the gym, teams went back to their home courts and watched awards on the live stream.
First, they announced who would be advancing to State in Jazz. In third place, after a tiebreaker for second, Cathedral was announced. ROCORI was announced for second place after the tie breaker with Cathedral. Sartell took the lead in first place.
Cathedral ended the day with a total point score of 377/500 and a rank score of 8. ROCORI took the lead on Cathedral just 2 points ahead landing them at 379/500, also with a rank score of 8. Sartell received an astonishing, record breaking, 451/500 landing them 1st place ranks across the board, ending rank of 3.
Then came time to announce who would advance in Kick. Third place was given to ROCORI as they scored 388/500 with a rank score of 8.5. Cathedral came out on top of ROCORI with a total point score of 393/500 and an ending rank point score of 7.5. Sartell came out on top again with a total point score of 449/500 and a rank score of 3.
Take a closer look at the score sheets on the MADT website, jazz and kick.
The St. Cloud Times captured some great moments on camera as well as a good wrap up of the section 4 class AA sections meet, check it out here.
Interviewing with SSDT's freshman, Olivia Brix, who dances for both the Kick and Jazz team, I asked her about what State traditions she is most excited to experience for the first time.
Cathedral is pumped up to be progressing to the State Tournament this year after not advancing the last year (the 2019-2020 season.) ROCORI is going into State with large goals to place higher than they did last year. At State in 2020, they landed a 7th place placement, meaning they had just missed the mark to advance to finals.
See all State 2020 placements here.
In a normal State setting, 12 teams from each class would convene at the Target Center. The first round, prelims, is when all 12 teams compete. Following the first round is when the top 6 teams are announced and A competes in their finals. In finals, all the scores start over like it's a new meet. Everyone starts at zero and has to earn every point back. Once it is time, class AA will compete their dances for the last time with a fighting hope to be placed in the top 3. After all the teams have danced, awards are at the end of the night. The top 3 teams are announced and awarded their State trophies and medals.
This year, State will look a lot different. From things like location, spectators, awards, to how even the format of the whole day looks different. We will all need to adjust and stay adaptable. Class AAA will compete first in the morning, then class A will go in the afternoon. Class AA will finish close out Tournament in the evening.
In a normal year, teams would line up in performance order on the State floor, then they would announce the top 3 teams. Each team announced would have their chance in the spotlight as each dancer is individually announced and congratulated by State Officials with a medal and a hand shake.
I interviewed with senior, Amber Teer, and asked her what her favorite memory from State was.
This year has been a rollercoaster for all sports, but all sports celebrated when, on February 4th, they announced the State Tournament would be happening.
Dance team is the first sport to have to opportunity to go to State since all Fall sports weren't given the chance to advance.
Check back in with the LeSabre after March 13th for a recap of the 2021 State Dance Team Tournament.