President Biden: What has he done since taking office?
Through nearly four weeks as the President of the United States, Biden has been aggressively making changes.
The former Senator is on pace to set a new record of total executive orders within his first month since taking office as well, signing 28 in two weeks. With so many prominent issues facing the country today, it is promising to see such swift action taken in such a short period of time. However, not every signature promises change, so let us take a closer look at what Joe Biden has accomplished in his first bout in office.
For a visual on the route to office for President Joe Biden, please consult the timeline shown at the end of the article.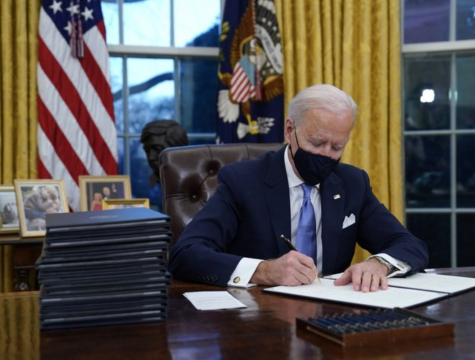 Before diving into the details of President Biden's debut, I wanted to see what the younger generations think about our new leader.  Sartell High School senior Gustav Gunderson had some things to say about Biden's first couple of weeks.
When asked about Biden's record number of executive orders during his first month in office, Gus was understanding of the work Biden wants to get done: "I think he is planning to slow down on those…He has a lot of work to do and he wants to move in a new direction."
After this, Gus shared what he thought about masks and Biden's expectations of Americans during the pandemic. Gus said that he hopes wearing masks can help overcome this virus, and that we should try to keep the numbers down by any means.
Then the conversation steered toward climate change. Trump pulled out of the Paris Climate accord, and Biden re-entered it. Gus had this to say: "I do not know much on this subject, but I am all for attacking climate change. However, I do understand that most agreements have their benefits AND downsides."
Moving toward the details of Biden's work, let's talk climate change. One of the most noticeable moves made by the new President was re-joining the Paris Climate Accord. This agreement is essentially a voluntary commitment to working toward ending the climate crisis, and we can all agree that we want to keep our planet healthy for as long as we can. However, there are some downsides to this as well. This agreement allows China, the world leader in carbon emissions, more fuel-related and environmental freedom than the United States, which was the premise for president Trump's withdrawal. 
Another sizable engagement President Biden has put his name on was the freeze on student loans. Originally a part of the CARES Act, the current pause on student loan payment, debt, and interest will be in place until October of 2021, although President Biden said this likely will be extended as this pandemic continues. Many college students are of course ecstatic about this, while many people in other communities have shown skepticism toward this move by President Biden. This was a very strong play from Washington. 
One more big move for Joe Biden is the "100 Days Masking Challenge." President Biden wasted no time asking Americans to fulfill our "patriotic duty" in wearing masks. One of his record 42 executive orders within his first two weeks in office was to force federal workers to mask up while they are at work, of course for their own protection and the safety of others as well. The world wants this pandemic over as quickly as possible, and hopefully masking up will help us all get there. 
Clearly President Biden has been up to a lot since taking office. These fast moving orders and enactments will certainly move the country forward in one direction or another, let us hope for a brighter future. 
About the Writer
Scout Thorstenson, Journalist
Grade: Senior

Hobbies: I play basketball very often. I also love to spend free time at various thrift stores around St. Cloud.

Where I will be in...