Upcoming movie 'Raya and the Last Dragon' stars Disney's first Southeast Asian heroine
Disney's newest "princess movie", Raya and the Last Dragon, which is set to come out March 5th, dives into a more multicultural plot and storyline, as it tells the story of characters based in the Southeast Asian region of the world and includes an Asian casting list to accompany the characters.
Disney has had a short track record with multiculturalism and characters of different races. Princess Jasmine was Disney's first character of a race other than white, whose characters can be traced back 55 years, but has fueled a canon of different characters with different backgrounds, leading to Disney to try to diversify their princesses a little more in the modern day.
There has been five princesses in total from Disney that have different ethnic and cultural backgrounds: Jasmine, Pocahontas, Mulan, Tiana, and Moana. Many people are overall really pleased with the idea of another different cultured princess/heroine, but some were not so happy with the way the main character, Raya, the rest of the characters, and storyline was being portrayed when it came to the assumed ethnic background of the movie.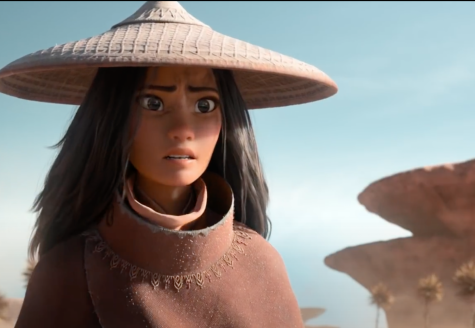 As stated above, Raya and the Last Dragon was described by the directors as based on Southeast Asian heritage and roots, but many speculators (especially those of Southeast Asian descent) were confused by this when they pointed out differences in the movie from Southeast Asian and other bordering Asian country's customs. They also were confused by the cast choice, since all of the cast, although of Asian background, were not necessarily from any Southeast Asian countries (except the lead role played by Kelly Marie Tran.)
"
A friendly reminder that actual South-East Asians are not thrilled for Raya and the Last Dragon. They basically put the whole region in a blender and hired so little south-east Asian actors for the roles. It sucks, it feels like Disney didn't care to respect us."
— Twitter user, @avamarga
The movie was supposed to mix in the customs of the Southeast Asian countries of Thailand, Vietnam, Malaysia, Cambodia and Singapore, but the already built-up fan group for the movie had noticed that the trailers proved their point that it was more-so an all-around Asian based movie and not just Southeast Asian like it had said. 
Fans and speculators were quick to point out the East Asian influences in the movie, and fans of Southeast Asian backgrounds also went onto social media to show their disapproval of the movie's attempt to represent Southeast Asian people. Many twitter users stated that East Asian "flavor" and Southeast Asian "flavor" are vastly different, and that the movie wasn't being true to influence strictly from Southeast Asia. Others were upset over the fact that screenwriter, Adele Lim, had stated the movie was not about representation. 
On top of the misrepresentation, many people were displeased with the price point to watch the movie, which is at a $29.99 streaming price, and were confused to why the newer Disney movie, 'Soul', was free to watch, but Raya and the Last Dragon won't be.
The movie's mixed reactions also included people who were more optimistic about its release, with some saying that they were more excited about a more-so original Disney movie, and not another live-action remake. Fans also were excited about the movie due to the animation describing it as "beautifully done."
Watch the trailer below for a sneak peek at the movie so far.
Disney, YouTube
About the Contributor
Ashley Johnson, Journalist
This year is Ashley Johnson's ('21) first year writing for LeSabre and last year at Sartell High School. Her favorite things to write about are opinion...