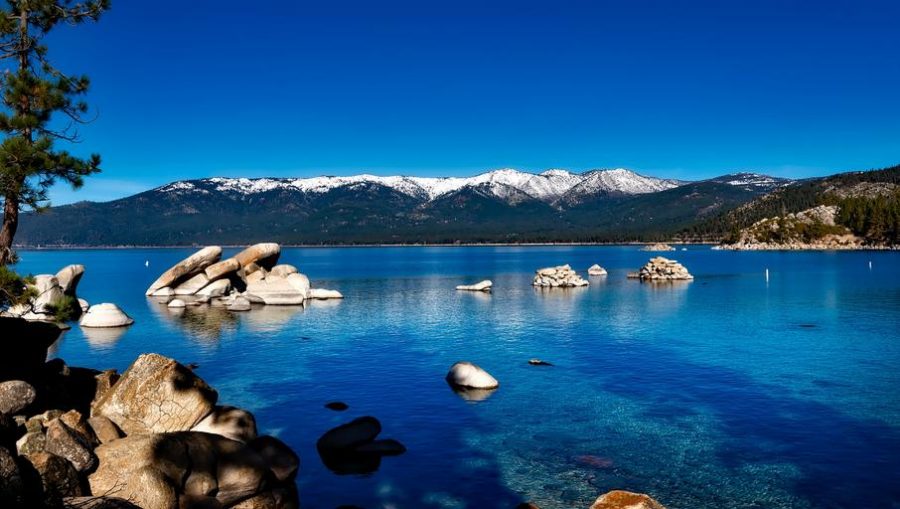 SnappyGoat.com
The National Hockey League (NHL) will host its annual outdoor game this weekend, however this is no ordinary winter classic with thousands of fans boasting their teams' jerseys in the host city's stadium. This year's game will take place fifty paces from the shores of Lake Tahoe on the 18th fairway of Edgewood Resort Nevada, with only hockey sounds to fill the absence of cheering fans.
The NHL postponed the outdoor game scheduled for Minneapolis due to Covid restrictions and took advantage of the opportunity to create a scenic rink between the Sierra Nevada Mountains and the shores of Lake Tahoe, that wouldn't normally be realistic because of the sheer number of fans in attendance. This rink will contain athletic facilities and locker-rooms, leaving fancy stadiums behind and focusing on the classic basics of hockey with its natural beauty.
The idea of hosting high profile games was inspired by the 1999 film "Mystery, Alaska",  which paved the way for Michigan State to hold their first official outdoor game, the NHL was quick to follow. The NHL has been hosting outdoor games since 2003 and made it an annual event in 2008. Lake Tahoe abandons the reality that has taken place during the pandemic, which reflects large empty stadiums and pays homage to the classic outdoor rinks, where many NHL players fell in love with the game of hockey. For those lucky enough to grow up skating on an outdoor rink in their backyard or in their community, this game is sure to bring up feelings of nostalgia.
Bruins player James Van Riemsdyk, reflects on his days playing on his local rink in a recent NHL article,
 For many of these players who grew up in the Midwest or on the East Coast backyard rinks were not uncommon for families and communities who were dedicated to the development and enjoyment of their children and community members. For the Tuch family passion and dedication to their backyard rink in Baldwinsville, New York, was abundant. It sported clean ice with their own homemade device, floodlights for the late night skates, around 40 extra skates for kids in the community, and they even had freshly baked goods and hot chocolate waiting for them provided by their mother. Vegas Golden Knights player Alex Tuch, looks back on his backyard rink nicknamed "Rink Of Dreams" with gratitude and admiration in an NHL article,
For those lucky players who had the same reality growing up, this game at Lake Tahoe means more than hockey. For players and viewers, it is sure to be a memorable experience. The Colorado Avalanche will be facing off against the Las Vegas Golden Knights on Saturday Feb 20th 3 p.m. ET. Following up the first game Boston Bruins will play the Philadelphia Flyers Sunday Feb 21st 3 p.m. ET.