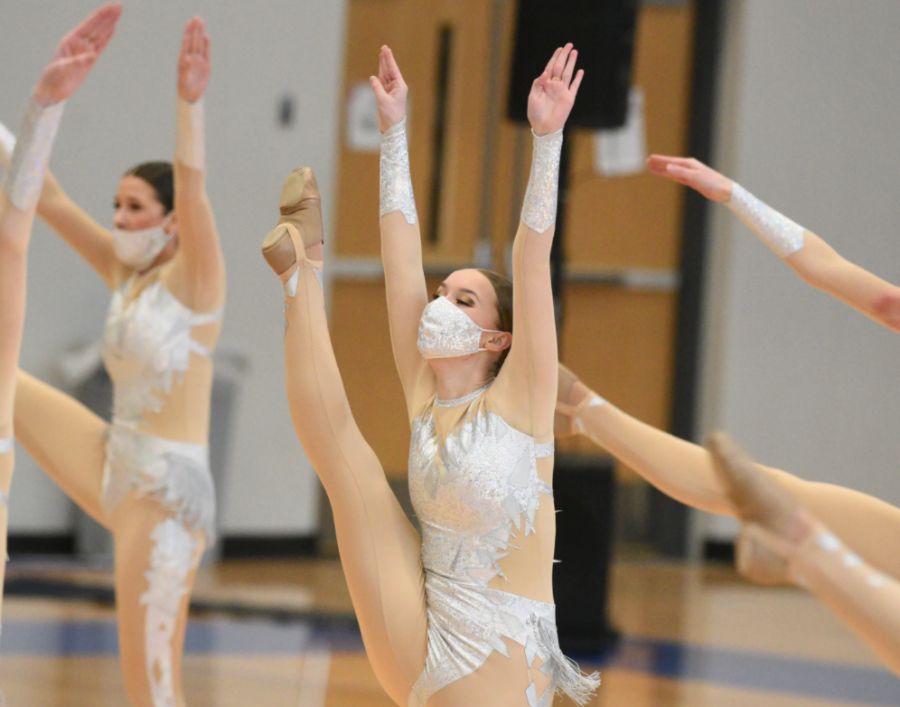 ZACH DWYER, [email protected]
The Sartell Dance Team competed for the Conference title at the Central Lakes Conference at home.
The Sartell Dance Team pulled off a win for both kick and jazz on their home floor. Unfortunately the Sartell JV team was unable to compete due to a two week quarantine. Brainerd earned themselves second place placements in kick and jazz, posing as tough competitors for the victorious Sartell team. Rocori finished strong with a third place finish in jazz while Sauk Rapids edged them out in kick snatching the third place slot.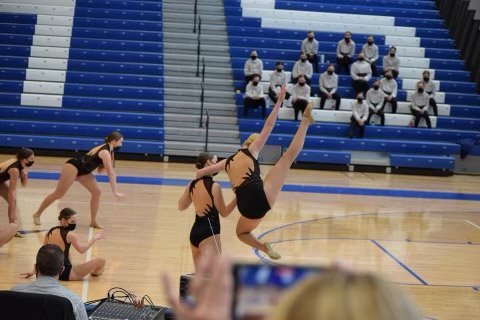 Sartell senior Julianna Moore comments on the preparation of the Sartell Dance Team leading up to a tough competition.
What challenges do you face going up against a AAA team like Brainerd in Conference? 
"I'm always excited for conference because it's our only chance of the year to compete against an AAA team, especially one as good as Brainerd. It makes me push harder and makes the end results even more satisfying."
Sartell's kick dance this year differs from years past as they boast a fun and upbeat Jlo themed dance entitled "Live It Up." While their Jazz dance counters the light hearted kick with a hard hitting and moody cover of the classic song "Eye of the Tiger." Brainerd brought a fun and unique kick dance to a mix of everyone's favorite Beatles songs.
Sartell Dance Team senior Brooke Andel lets us in on what she believes contributes to the success of this year's team.
What sets you apart from your competitors this year?
"I think that our team's commitment and dedication every day at practice shows through when we perform. Every dancer goes out and gives 110% and you can see that when we dance. That is what I believe truly sets us apart from our competitors."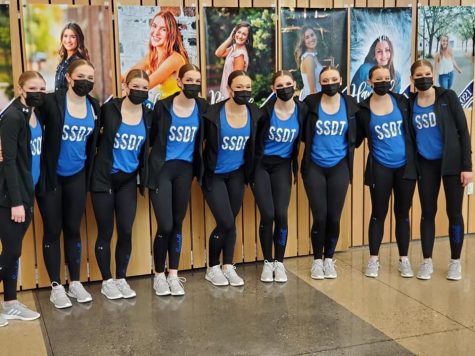 Adding to the excitement of the competition was the honoring of Sartell seniors and seniors from around the area. Proudly displayed on the two gym scoreboards were pictures of seniors from the CLC teams throughout the competition. The seniors of Sartell were given a special shoutout with banners of their senior pictures lining the lunch room wall as fans entered the building. The parents of Sartell's senior dancers returned to cheer on their daughters as they were presented with flowers from their coaches honoring their hard work and dedication. 
Sartell senior captain Maggie Schneider comments on the importance of the love and support she receives from her family and coaches.
What does the support of your parents and coaches mean to you throughout this unusual and challenging year?
Sartell and the rest of the CLC will go head to head for the final time this year on February 20th at Sauk Rapids high school for the title of CLC Champions. Their placements of the recent conference competition will be combined with the placements of the upcoming CLC competition to award the victorious team the CLC Championship title.