Cake boss: vegan style
I know what you're thinking after you look at the picture above…this looks disgusting.
Well, you're right. This cake tasted horrendous, but I wanted to try something new.  I thought why not!?! And then I tried to make a vegan carrot cake.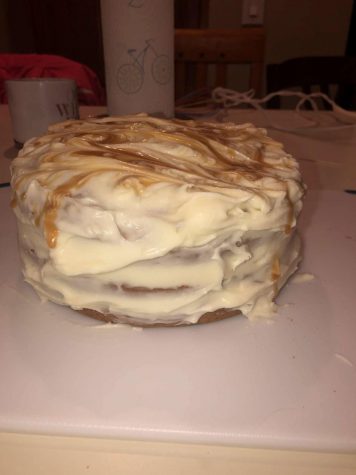 I thought this was going to be easy, but oh boy, was I wrong!
This cake was hard to bake but even more so, especially finding the ingredients. My parents and I were in the store for 30 to 40 min trying to find the ingredients!
My dad's girlfriend and I had to look up what vegan butter looked like and cream cheese because we were having a hard time looking for it in the store. We had to use regular butter and cream cheese instead because they didn't have them in vegan food.
My overall review on the vegan carrot cake is that it was disgusting.  It was too sugary and tasted bland. My cousin tried it. She didn't like it. She said it was too dry and sugary. My dad took a big piece of the cake and took one bite and threw the rest away.
Then he gave me some great Dad advice…
"
Maybe baking isn't for you."
— Danielle's dad, mike
About the Contributor
Danielle Murray, Journalist
grade:

hobbies:

where I'll be in 10 years:

dream job:

dream vacation: