Sabres soon to be in session
The Sabres are heading back to school! In the school board's announcement on January 28th, it was decided that Sartell students grades 6-12 will be going back to a full-in person learning starting on Monday, February 8th due to decreasing numbers in COVID-19 cases.
According to a WJON article, as of January 21st, there have been 14 effective student cases and 0 among the staff. With that being said, there was an urge to get students back into school with the decreasing number of cases in the area. The district ruling was based on the decline of cases in accordance with local medical providers, Stearns County Public health, and the Minnesota Department of Health. 
The thoughts are varied when it comes to how students are feeling:
"
Kinda nervous about going back because the amount of people on a hybrid day is a lot. I can't imagine what it will be like with everyone there. It will also be my first time with everyone as a high school student so it will be interesting to see what happens. "
— Megan Neid, Sabre Freshman
Senior, Connor Hacker, is one of many students who are choosing to stay distanced: "I'm actually staying full distance but I think it's good we're trying to get kids back in school. Full in-person seems a little rushed and a little risky especially with all these new strains but overall it's great kids will get to see teachers and their classmates in person!" 
The most recent research coming out is that schools aren't super spreaders. Governor Walz's Safe Learning Plan says with mitigation strategies in place, schools are actually a pretty safe place to be.  Transmission in schools is quite low.  
Teacher's also have varying opinions: 
"
Kids need to be back in school and I am all for it. Distance learning and student mental health (teachers too) is a big concern. During these sort of lock downs/distance learning we have seen mental health issues and substance abuse go up along with suicide."
— Mr. Sailor, a gym teacher here at the high school
New to the building, 9th-grade science teacher, Mr. Krippner voices his opinion: "I am looking forward to having students back! I missed laughter, small talk, and the face to face contact with all students in the classroom. I am done seeing letters on Zoom. I am really looking forward to having labs and hands-on tasks in science. I have the general, societal concern of spreading the virus when everyone is here. Hopefully, this can be mitigated by following guidelines. Also, I still feel like we will be attached to our computers (and Zoom) for the remaining distance learners and students in quarantine." 
"
I am SO looking forward to seeing students again. I haven't seen any of my full classes yet, so it'll be interesting to see the dynamics of the classroom change. I think a challenge that we're all a little worried about is having distance students along with a class of students in person, but we always find a way to make it work!"
— Ms. Box, an SHS English teacher
"Personally, I am excited to have the students back in the classroom because that is what the students need. I miss seeing everyone, especially the ones that have taken my classes in the past. The only big concern that I have is doing Zoom at the same time. I don't want to be tethered to my Mac waiting to see if a student has a question. The courses that I teach involve me moving around a lot helping individuals with something that is not working for them," says Mr. Simmons, a business teacher at the high school.
Thank you all for the great responses. Welcome back Sabres!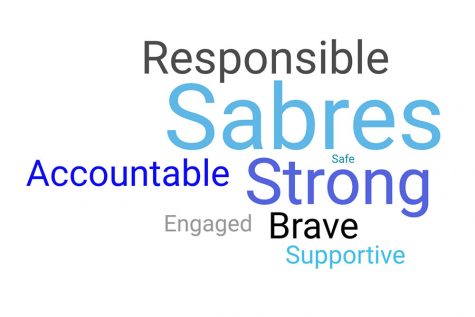 About the Contributor
Ava Williams, Journalist
Grade: Senior

Hobbies: playing softball, hanging out with friends, being with family, making videos, exercising

Where I will be in 10 years: In 10...