Olivia Rodrigo's new song becomes a No. 1 hit in just a week
Recently, Disney actress turned singer, Olivia Rodrigo, released her debut single into the musical world called "Driver's License". The song took the app Tik Tok by storm, which led to it breaking Spotify records and also topping the Billboard 100 hot singles charts at number one, making it the first runaway hit of the year so far. So much so, that even Rodrigo herself stated in an interview how surprised she was at how instant her life had changed.
"
"My entire life just, like, shifted in an instant.""
— Olivia Rodrigo
Billboard has released information that showed that the song had became an instant hit with statistics showing that the song was streamed more than 76.1 million times in the United States the week it made it's debut. The popularity of the hit also led Rodrigo's budding fame into a blossoming solo artist career, with fans treating the song as if it was made by a more widely known artist by reacting in ways such as piecing together the song's deeper meanings and tracing it back into Rodrigo's personal life, and more descriptively her troubled love life.
Inside the song's meaning, fans have pulled out several facts that lead to the song most likely being around Rodrigo's co-star and late boyfriend, Joshua Basset. Many fans also speculated that the song targeted actress and singer, Sabrina Carpenter, due to it's lyrics that pointed out a "blonde girl" who has the narrator of the song's attention.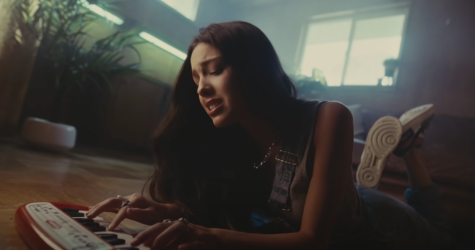 Rodrigo overall had addressed these rumors surrounding her song, and had stated that she believed that "It's resonating with people because of how emotional it is, and I think everything else is not important." She also had given insight to the beginnings of the song itself, saying that she felt about writing it after listening to sad songs in her car and then began writing the song in her living room, rather than what fans had previously believed to be the reason for the song's creation.
"
"It was like, my deepest insecurities in a four-minute song""
— Olivia Rodrigo
No matter who or what the song ultimately ends up being about, it has received much attention and praise from widely known singer celebrities such as Taylor Swift, and Cardi B. It also has already began to be covered by other low-key singers, and even influencers such as the Youtube beauty guru, James Charles. Although a multitude of the people first listening to the song don't necessarily know who Olivia Rodrigo is, she has stated that the doesn't mind that they have found her through her first solo career single by saying  that "It's really cool to be introduced to people for the first time through a song that I feel really passionate about."
If you want to take a look at the song taking the world by storm, click on the video below:
Olivia Rodrigo, Youtube
About the Contributor
Ashley Johnson, Journalist
This year is Ashley Johnson's ('21) first year writing for LeSabre and last year at Sartell High School. Her favorite things to write about are opinion...