A Day For Democracy: Biden's Inauguration
On Wednesday, January 20th, 2021, Joe Biden officially became the 46th president of the United States of America. History was also made that day, as Kamala Harris became not only the first woman vice president, but also the first vice president of Black and South Asian descent. Biden's inauguration incorporated ideals of a more "unified" American government and country overall, as well as multiple promises to revoke and exchange old policies (a majority of which were made by the Trump Administration) by issuing out a mass amount of executive orders, just in his first week.
On the day of inauguration, Biden was sworn into office with the 35-word long oath of office in a ceremony administered by Chief Justice John G. Roberts Jr., using a five-inch-thick Bible that had been a staple in his family for 128 years. Shortly after, Harris was sworn into office as vice president, using a Bible that had been originally owned by Thurgood Marshall, a Supreme Court justice and civil rights leader. Harris' ascension into the position of vice president made history, since she had at the moment became the first highest-ranking woman in the history of the United States, as well as the first person of Black and South Asian descent to hold the second highest office (the first being the presidency) in the nation.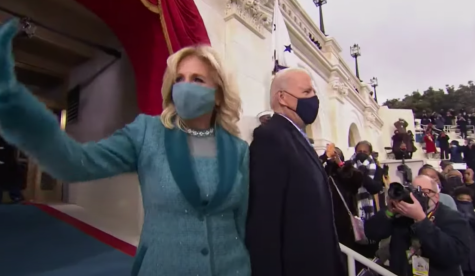 Biden began his inauguration speech by addressing his differences from his predecessors, as well as diving into the challenges that Americans have been facing for the past year such as the Coronavirus, systematic racism, an abundance of violence and riots, as well as the overall divide created among citizens within the nation.
Biden further addressed these issues by stating that "To overcome these challenges, to restore the soul and secure the future of America, requires so much more than words," to which he concluded the main solution as more unity within all aspects of the American people, government, and way.
He also stated that "Politics doesn't have to be a raging fire, destroying everything in its path," and that "Every disagreement doesn't have to be a cause for total war. And we must reject the culture in which facts themselves are manipulated and even manufactured."
"
We must end this uncivil war that pits red against blue, rural versus urban, conservative versus liberal. We can do this if we open our souls instead of hardening our hearts."
— Joe Biden
Biden's speech consisted of him not only vouching for America to become more united as a whole again instead of separated between mixes of partisan ideals and false information outputs, but also his new political agenda regarding policy. Policy changes are set to start Thursday, January 21st, only a day after his inauguration as president.
The week, with the exception of this weekend, has been completely planned with certain themes attached to a certain day. The 21st is expected to be focused on Covid relief, followed by the 22nd which is expected to be centered around economic relief. The 23rd and 24th is the weekend, so there is nothing to be expected on these days, however the following day on the 25th is themed around a "Buy America" directive. The 26th is to be themed around equity, and the 27th is to be themed around climate. Finally, the 28th is to center Health Care, leaving the 29th to focus on immigration policies. His agenda also states that so far the month of February has a theme as well, to what is referred to as "Restoring America's Place in the World." The President so far, has already signed an executive order to repeal the travel ban made by the Trump Administration which set to restrict visitors from mainly Muslim and African countries.
Within the inauguration, performances by various artists and pop culture influencers took place, such as actor Tom Hanks, Lady Gaga, Bruce Springsteen, The Foo Fighters, Eva Longoria, John Legend, Jon Bon Jovi, Demi Lovato, Justin Timberlake, Tim McGraw, and Lin Manuel Miranda to name a few.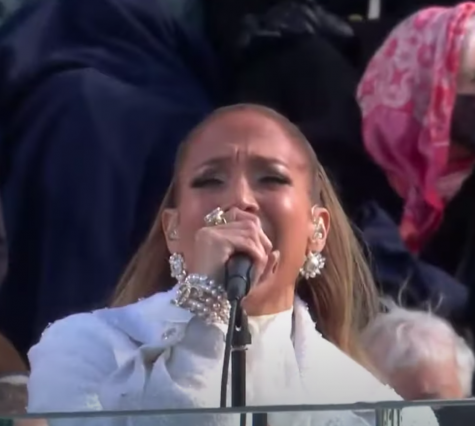 One performance that left lots of speculation however came with Jennifer Lopez's tribute to the songs "This Land is Your Land" and "America the Beautiful." Many were pleased, especially the LatinX population, when Lopez decided to speak a patriotic Spanish reference to the Pledge of Allegiance, but many were also upset with her referencing her own song "Let's Get Loud"  by singing the lyrics during her performance. People automatically took to Twitter to post their feelings about her belting out the three-word phrase before finishing "This Land is Your Land", to which many said was "cringe-worthy" and a way for Lopez to promote herself.
Overall, Biden's inauguration was ultimately successful, with even Donald Trump stating that he believes they "will be successful" as an administration, proving that the 20th was truly a day for democracy.
"
"This is America's day; This is democracy's day""
— Joe Biden
About the Contributor
Ashley Johnson, Journalist
This year is Ashley Johnson's ('21) first year writing for LeSabre and last year at Sartell High School. Her favorite things to write about are opinion...