Safe ice guide
Ice on MN lakes changes throughout the year and what is safe? Ice is never completely safe no matter what! In MN many people love to walk on the frozen lakes. People even drive snowmobiles, ATVs, and trucks on the lake. There are general rules that are safe conditions for ice. The best ice is the clear ice, clear ice is the strongest and safest ice. The cloudy white ice is not as safe and not as strong. Ice is made on lakes when the temperature is below 32 degrees. You always want to check the ice before bringing anything on the ice. Make sure to check the ice every 100 yards, the ice can change very fast.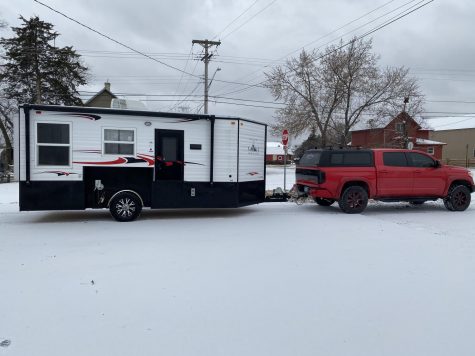 Ice that is 2″ or below is not safe at all to go on! On 3″ of ice and higher is safe but still be careful while on the ice. Safe ice for snowmobile is 6″ or more. Snowmobiles are the least dangerous of vehicles to drive on the ice. If a snowmobile were to go through the ice it can normally skip across the water pretty well. You can bring an ATV on 6″ of ice or more. Cars can start coming on the ice with 10″ or more. Trucks can come on 12″ of ice but make sure 100% that its 12″ or more all the way to the spot you are going. Now these charts all depend on the person and what they feel safe on, but a 1/2 ton truck with an single axel ice house can go on 14″ or more. Taking a 3/4 ton truck and dual axel ice house on 16″ of ice.
About the Contributor
Callan Miller, Journalist
Callan Miller ('21) is an outdoor fanatic, that loves to hunt and fish. He is always in the tree stand, in the boat, or on the ice hunting and fishing....