Ice fishing for walleyes in MN
Ice fishing is a great activity to do during the winter months in MN. This time of year you can drive on most lakes too. I have been ice fishing walleyes for the past three years now, every year I learn a little more. My first year I did not catch that many, the second year I would catch them once and awhile. This year, I have caught walleyes every time I have went out targeting them. Our biggest this season is 25″ and we have caught a couple in the 20″+ range.
Walleye fishing is especially fun if you have a permanent house where you can sleep on the ice. I have been doing a lot of that now that the ice is starting to become safe enough for the houses. Targeting walleyes through the ice can be hard, but I have some tips that will help you.
Aaron Miller, Callan's brother, shares, "Callan has been catching walleyes every time he goes out, he has learned a lot through the years."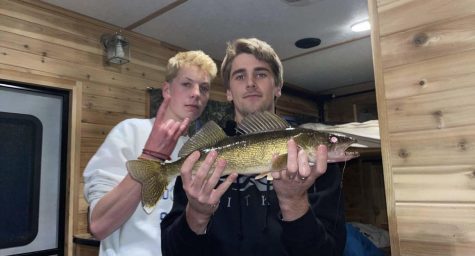 One thing that I have found super useful in ice fishing, is the app Navionics. It shows the contour of most of the lakes in the USA, it costs a little bit of money but it's defiantly worth it. Another very useful thing to have is a graph, many companies make super good graphs like Garmin, Vexilar, and Marcum. These sonars will help you find the drop offs and depths walleyes like to sit in. What I have figured out fishing for walleyes is that they like to sit on sharp drop offs, deep weed edges, and flats. I normally fish for my walleyes depending on the lake anywhere from 17-29′ deep. I use shiner minnows on tip ups and on rattle reels when fishing for walleyes.
Charlie Ken, SHS senior, explains, "We have been catching a lot of walleyes this year compared to past years."
Make sure you know your regulations when keeping walleyes. Many lakes have regulations on the possession of walleyes, read the MN DNR regulation book if you do not know. Many lakes around MN have walleyes in them, but if you do not know if they do check the species chart for your lake with Lake Finder.
About the Contributor
Callan Miller, Journalist
Callan Miller ('21) is an outdoor fanatic, that loves to hunt and fish. He is always in the tree stand, in the boat, or on the ice hunting and fishing....