Alabama wins 2020 National Championship football game
On January 11, the Alabama Crimson Tide won it's 18th national championship in team history after defeating the Ohio State Buckeyes by a score of 52 to 24. Alabama's head coach, Nick Saban, has now won seven national championships in his tenure with the team.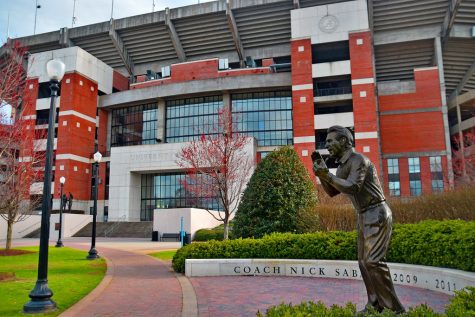 Alabama players were dominating the stat sheet as the Ohio State defense had no answer for the Crimson Tide's potent offense. Quarterback Mac Jones threw for 464 yards and five touchdowns (click here to view Jones's stats). Wide Receiver Devonta Smith caught 12 passes for 215 yards and three touchdowns, despite missing the second half of the game due to a hand injury (click here to view Smith's stats). Last but not least, running back Najee Harris rushed for 79 yards and two touchdowns (click here to view Harris's stats).
This national championship caps off a spectacular season for Alabama. The Crimson Tide finished with an overall record of 13-0, and two of the squads best players were nominated for the Heisman Trophy. Devonta Smith ultimately won the award for best collegiate football player, but Mac Jones finished second in the voting also. 
Ohio State's season is one to not be looked over though. The Buckeyes won the Big 10 title and finished with an overall record of 7-1. The team faced some controversy after the Big 10 bent the league rules to allow them to play in the conference championship. Ohio State's legitimacy was questioned after the Big 10 championship game. But, the team proved all the doubters wrong after they defeated Clemson by a score of 49 to 28 in the national championship semifinals.
The championship game was played at Hard Rock Stadium in Miami, Florida. Due to the state of Florida being less punishing on coronavirus restrictions, the final game of the college football season was able to have 14,900 fans. Of course all fans were required to wear a face covering and social distance. 
Video Via Jomboy Media Under the Creative Commons License
After the win, Mac Jones said to reporters "I think we're the best team to ever play. There's no team that will ever play an SEC schedule like that again" (click here to view quote). Alabama played an all SEC schedule up until the semifinals and the national championship. The closest game for the Crimson Tide happened in the SEC Championship game when they defeated the University of Florida 52 to 46. 
About the Contributor
Michael Webster, Journalist
Michael Webster ('20) is 18 years old and currently a senior at Sartell High School. This will be his first year on the LeSabre staff, and he will mainly...